I did a roadtrip recently (January 2017 end) from Mumbai to Bhuj & Udaipur along with my friend.
Day 1: Started off at 4 AM from Thane. We encountered a little bit of traffic near Dahisar due to bridge blockage and near Manor Toll. Otherwise it was a smooth ride till Ahmedabad. We had fresh Jowar (Winter season) roasted along the way and stopped at Bharuch for famous Peanuts (Must have). We packed some bread and cheese spread which we had on the drive.
Our lunch stop was ahead of Sanand in a Dhaba on the highway. We had Thali for just Rs. 70 (Unlimited). The food was delicious and freshly prepared. This was the first of many Thali's we had during our trip.  (Must have)
Dishes: Chapathi, Rice, Dal, Baingan Bartha, Kadi and one Sabzi.
Would recommend to try to out Dhaba along the highway for traditional cuisine and authentic food. These dhabas are frequented by truck drivers and locals.
We then proceeded towards Bhuj which was our destination for Day 1. It took us almost 6 hours to reach from Ahmedabad.
We checked into a Guest House near the Bus stand (VRP Guest House). We went for the cheapest option on Booking.com. The rooms had two beds and a TV. It costed us Rs. 350 per night. The toilet and bathroom was common.
We settled down and freshened up a bit. We headed out to another Thali place called Umiya Restaurant for dinner. The thali cost was Rs. 120 (Again Unlimited). Dishes see for yourself in the pic below.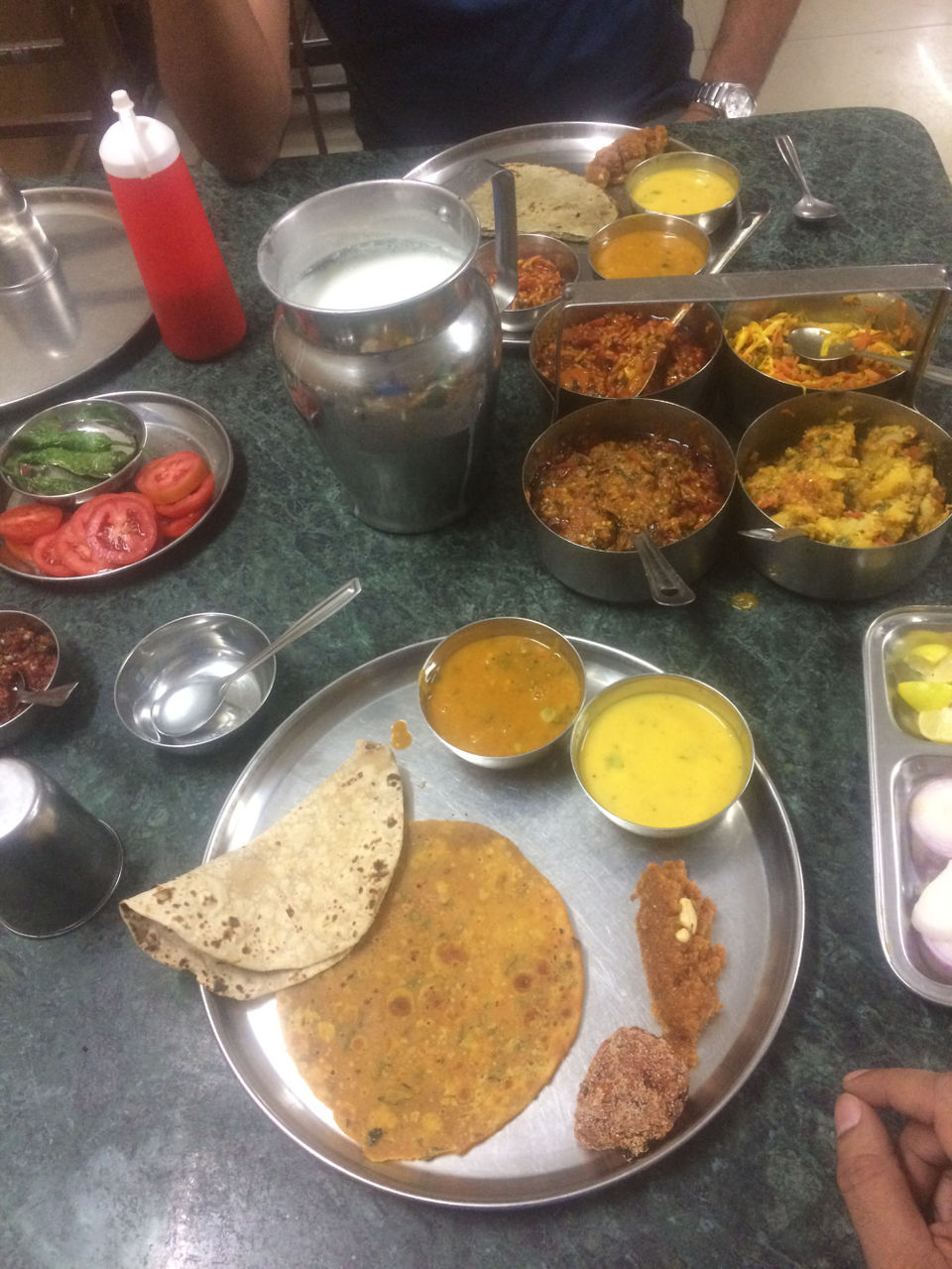 Day 2: Bhuj Museum – Chattardi – Aina Mahal – White Rann
We got up early and went out for a walk to do some street photography around the market area and have breakfast. The pictures below speak for themselves about what we had.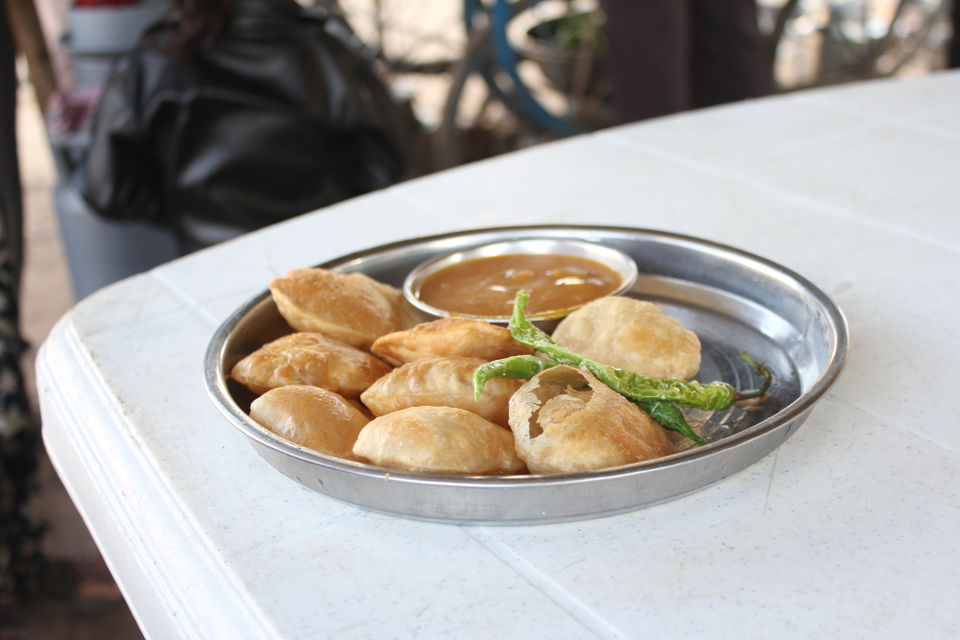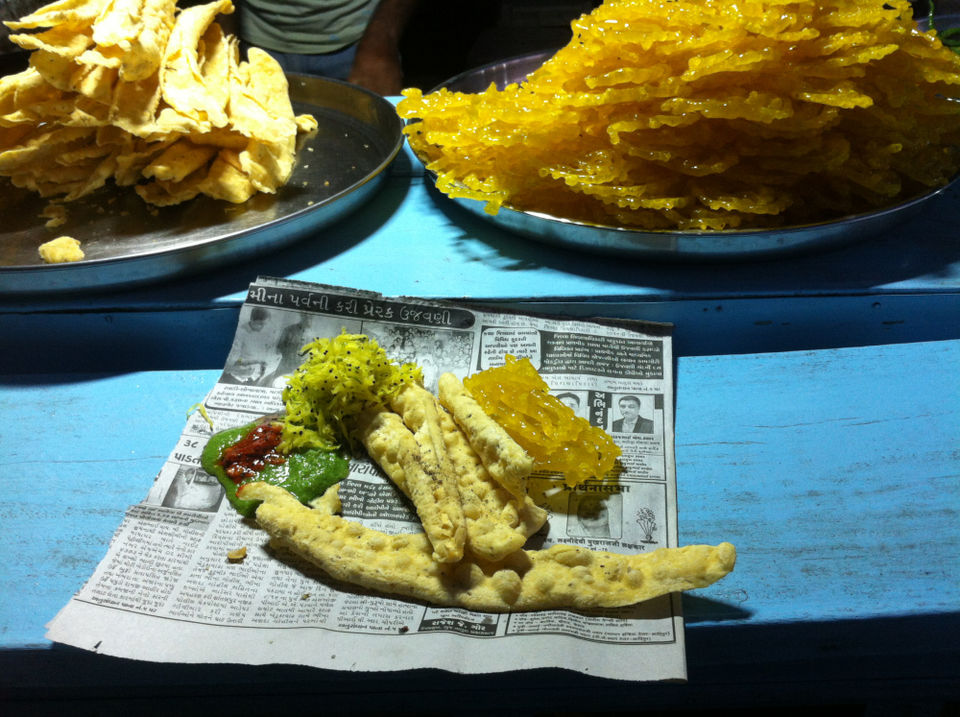 Chattardi – These chatarrdi are built in 1770 AD to glorify the tombs of the Royal family. It has polygonal shape with intricately carved roofs and may balconies. Some of the impressive and largest tombs are of Rao Lakha Rao Rayadhan, Rao Desai and Rao Pragmal.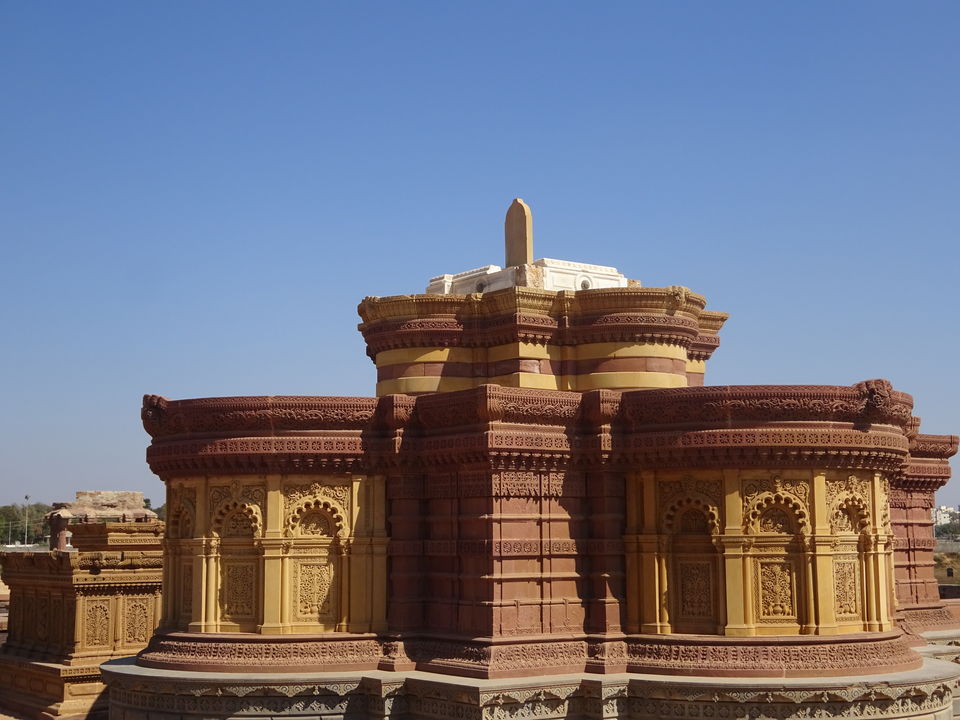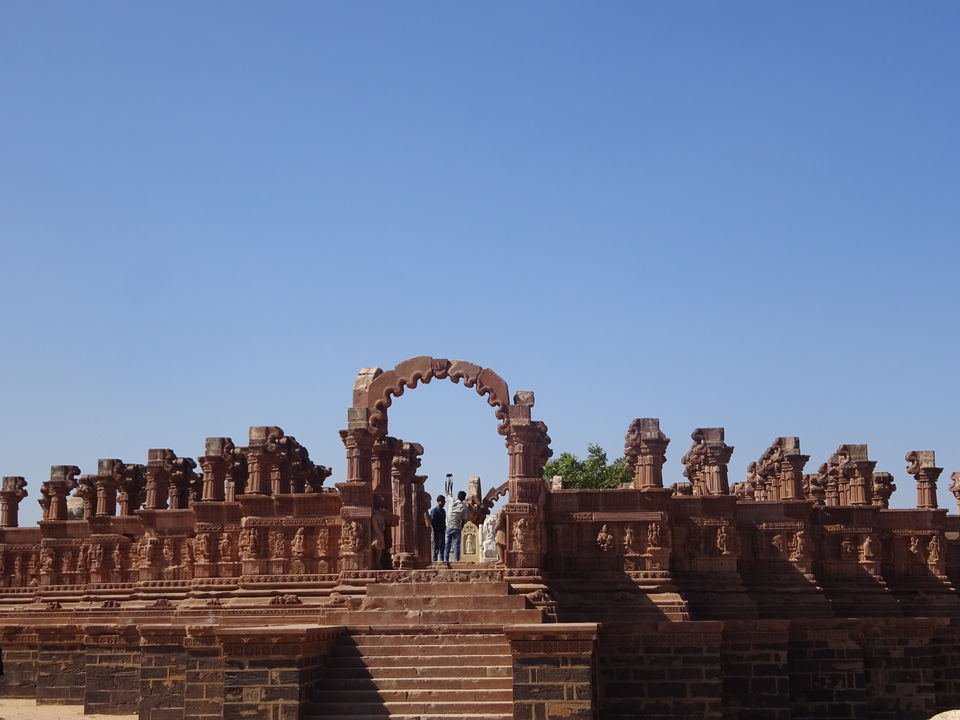 Aina Mahal – Go for a quick tour.
Bhuj Museum – Worth a visit.
White Rann desert is 90 kms from Bhuj city. We started off at around 12PM from Bhuj. We bought some Shrikand (Must have dessert made of hung Yoghurt) from one of the sweet shops which we had on the way.
The drive was a breeze and hardly any traffic. Driving in single lane road is fun. You need to take permit to visit Rann at a place called Bhirandiyara. We stopped at Bhirandiyara for tea and checked out the famous Mawa.  Somewhere I read the mawa was made of Camel's milk but got dissappointed to know it was made of usual cow's milk. You can still try it out if you want.
The checkpost is ahead of the village. It costs Rs. 100 per person and Rs. 50 per car. Just fill a form and pay the fees. It won't take more than 10-15 minutes depending on the crowd.
We proceeded towards the White desert which was another 30 odd kms.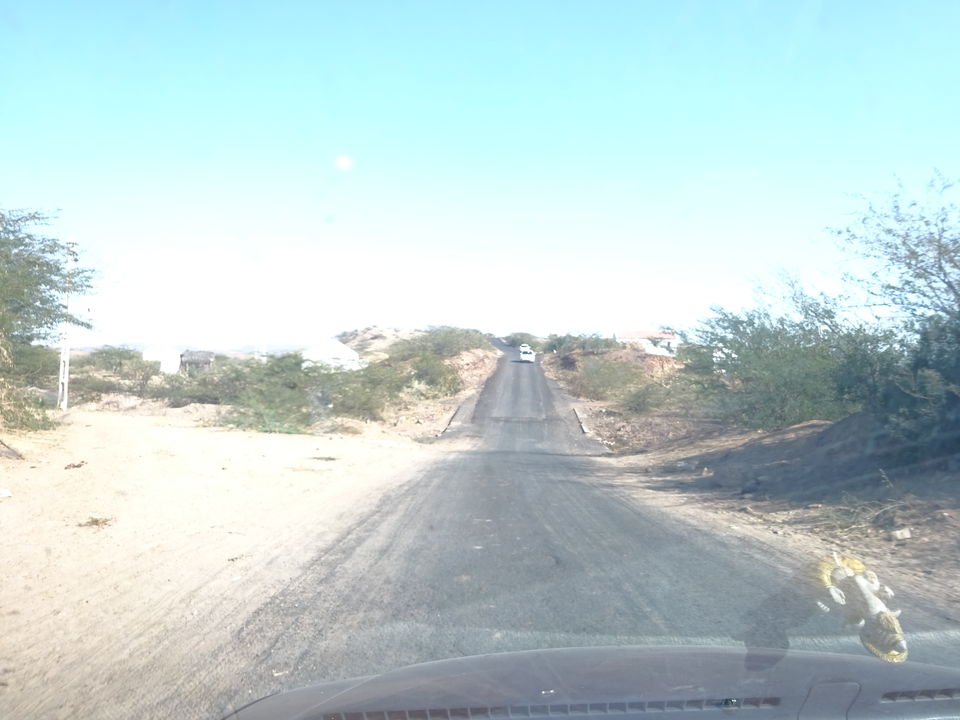 We reached the White desert and decided to first visit Kalo Dungar, the highest point in Kutch (458 metres above sea level). Kalo Dungar is another 50 kms from White Rann. It was 3 pm and we expected to be back to White Rann by 5:30 for Sunset.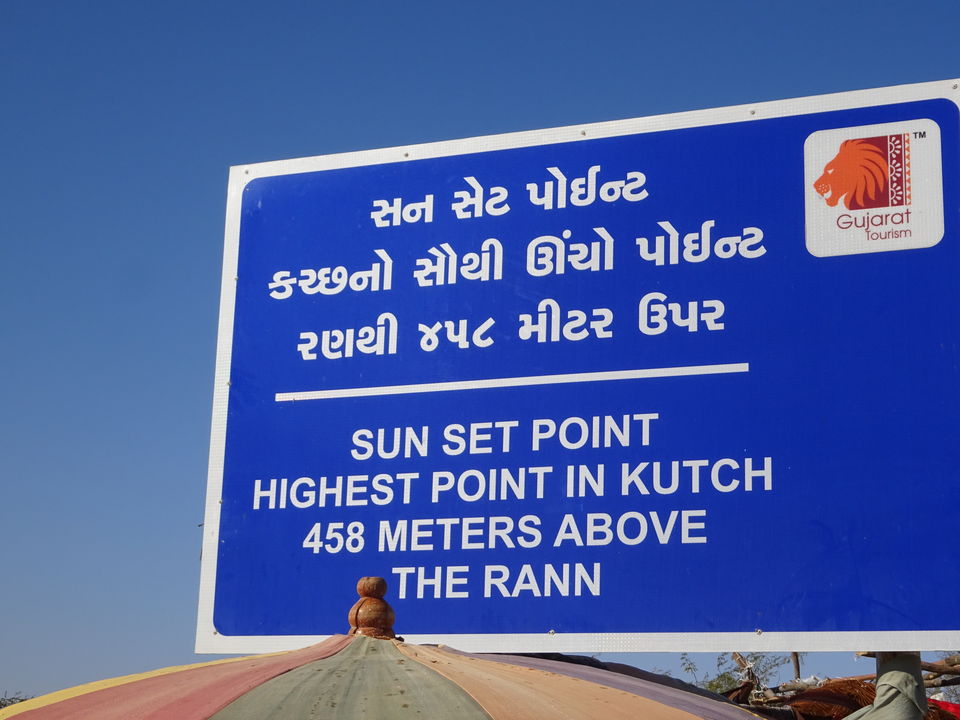 The drive to Kalo Dungar is pretty awesome. Just a well laid single lane road for two way traffic and for some part Ghat road as well. The highway is surrounded by beautiful desert landscape. We did some photography and took some rest there for a while before we started our journey back.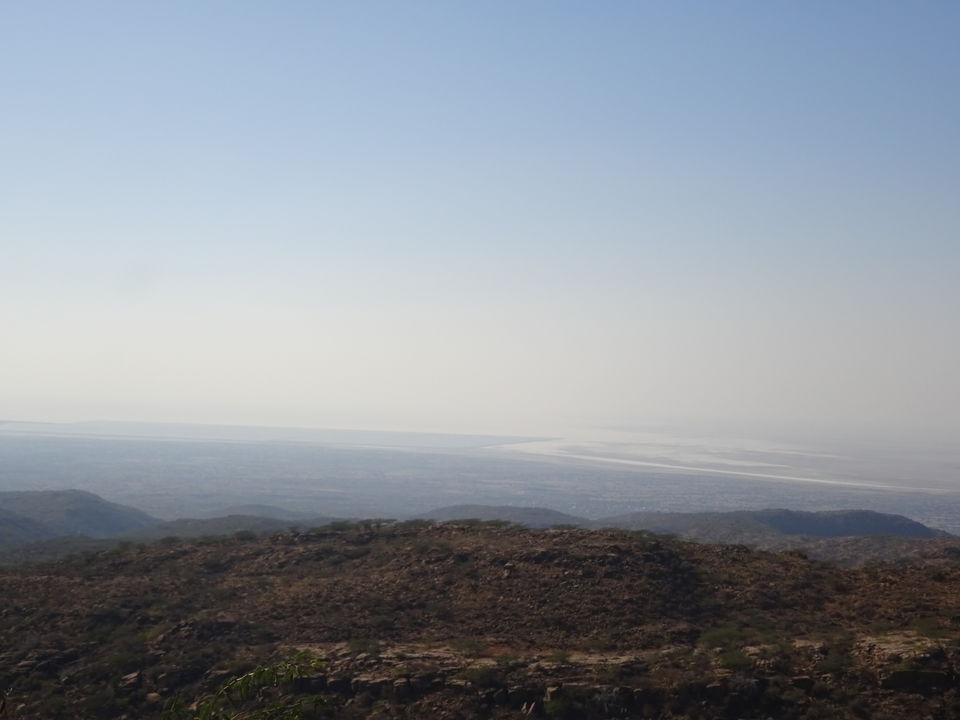 We reached White Rann at around 5 pm and we started to walk. The white desert is another 3 kms from the entry point. Bus facility is available but we decided to walk all the way. We reached the final point and stepped into the salt desert.
The area which we stepped into had some slush so we had to come back to the main lane and proceeded towards the view tower.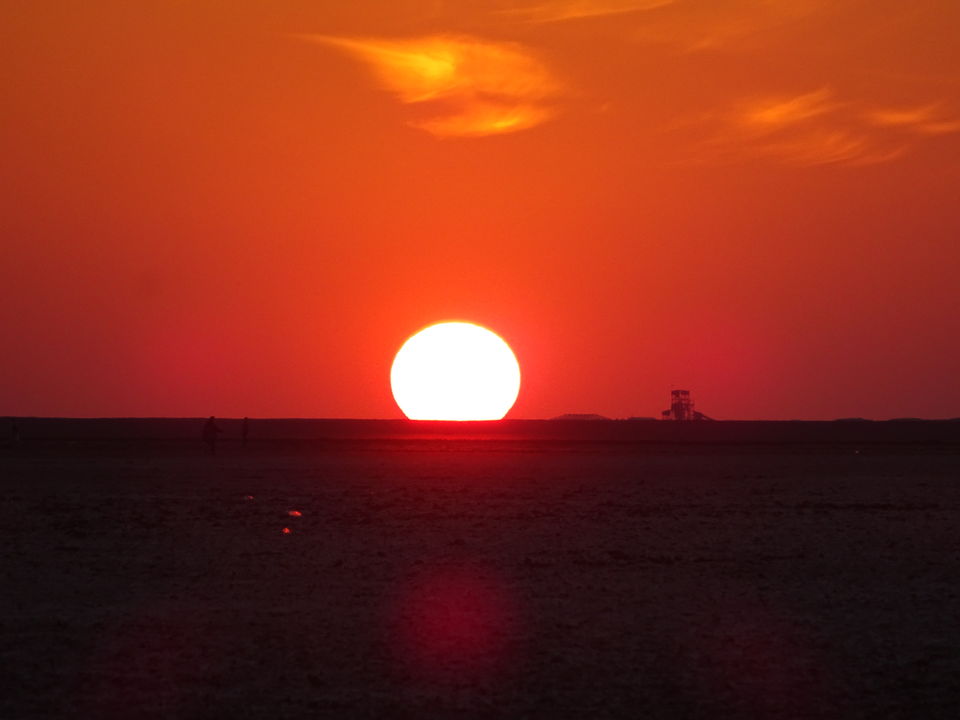 It was already dark when we climbed the view tower so we couldn't click many photos. We then went into the dry area of the desert and walked a bit. We sat in the salt desert for a while. Enjoyed the star studded sky and some cool breeze. People started walking back as it was already dark. We decided to sit and relax for sometime.
We came back to the Rann Utsav festival. Enjoyed some Kutch music under open sky and went to food court as we were quite hungry after all the walking adventure.
"To get an itinerary prepared for your trip, connect with me on Whatsapp @ +91 95945 58457."