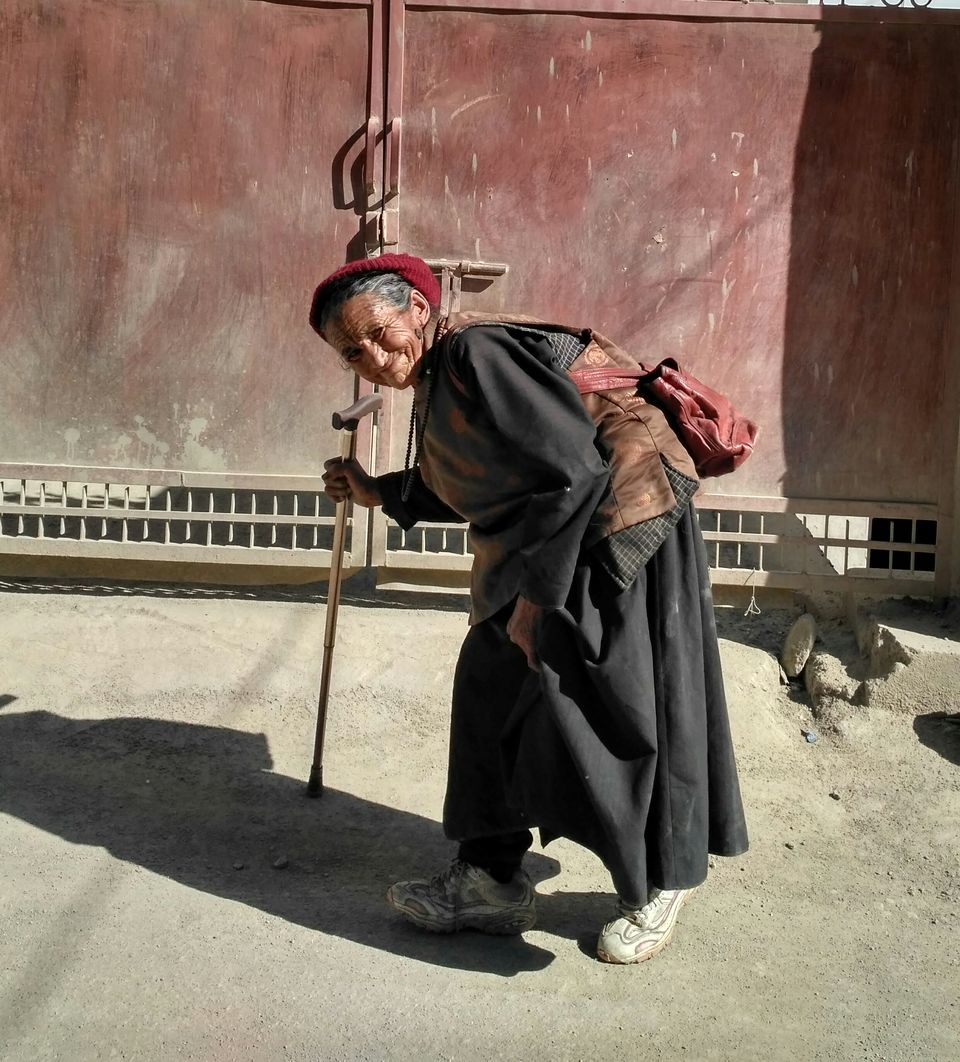 Ladakh Roadtrip 2017 Travelogue
Who? : 1 Couple from Bangalore; 1 Couple from MumbaiHow? : XUV 500When? : 21 June – 07 July 2017

Cost? : Rs. 20,000 per head all inclusive (Yes, that's possible)

Expenses:

Food – 17,000 (Tip: Eat in dhabas, local restaurants)

Fuel – 27,000

General – 5,000

Hotel – 28,000 (Tip: Negotiate hard at the Guest houses. Don't do advance booking)

Toll – 4,200

Total – 81,200

The plan was to do Ladakh in June end. I've already been to Ladakh in 2010 but that was a short trip where I covered Leh, Pangong Tso using public transport / hired Enfield bike. The trip itinerary was something like this:

Day Destination

1 Mumbai

2 Udaipur

3 Amritsar

4 Srinagar

5 Kargil

6 Leh

7 Leh

8 Leh

9 Nubra Valley

10 Nubra Valley (Sumur, Panamik)

11 Nubra Valley (Diskit, Hunder)

12 Pangong Tso

13 Tso Moriri

14 Sarchu

15 Manali

16 Chandigarh

17 Udaipur

18 Mumbai

19 Bangalore

Day 1: Bangalore – Mumbai – Vapi

Friends from Bangalore reached our place at around 9PM. We decided to drive as much as possible and find a hotel somewhere near Surat. Had a quick dinner on the Ahmedabad highway and decided to stay at Vapi for the night. Found a place for Rs. 900 per night.

Day 2: Vapi – Ajmer

We started at 7AM and our target was to reach Ajmer by late evening. Had some yummy Gujarati Fafda, Methi Bhajji and tea for breakfast. Did a couple of mistakes by going via Ahmedabad and by taking Udaipur / Ajmer route instead of Pali / Jodhpur route. This we realised while returning as the roads were much better and less traffic too. Booked Hotel Mahatma Inn (Rs. 500 per night) in Ajmer, which is in the middle of the main market. There was no parking facility and we had to park it on the main road. The rooms were good and clean. Rooms booked through Redbus app.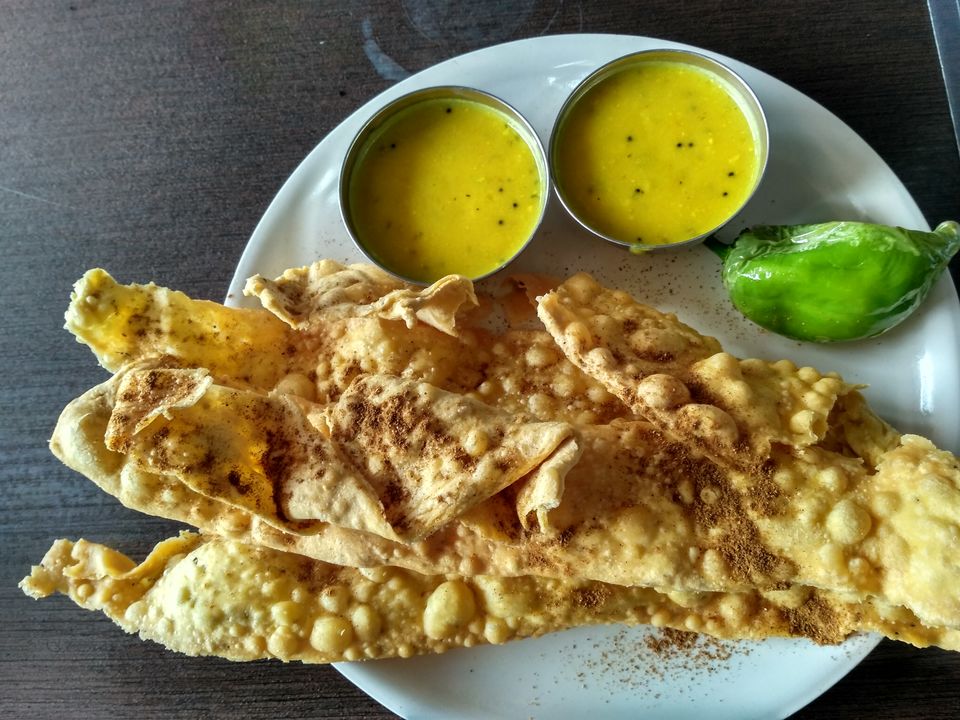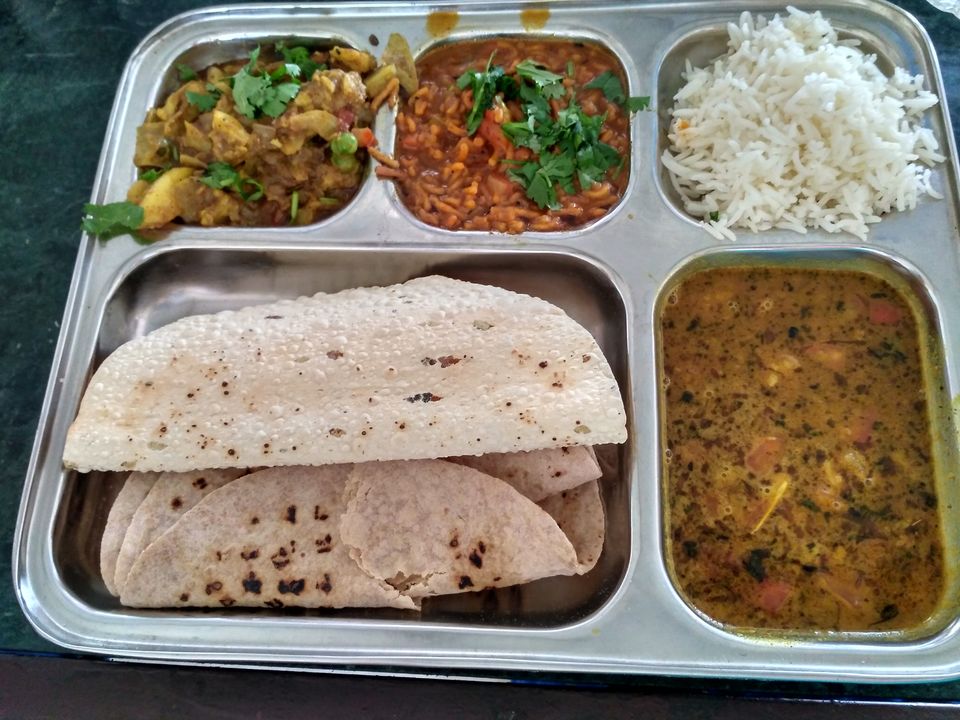 Day 3: Ajmer – Amritsar
Started off with some first of the Aloo paranthas for breakfast and chaaz. We did fill a bottle of chaaz for the road, which was quite helpful. The roads were State Highway in Okayish condition with a few railway crossings. We managed to reach Amritsar by around 8 PM. We booked hotel rooms through Booking.com app but the hotel refused to take us in as the rooms were full and were trying to fit us in another hotel. We decided to search on our own and found a place called Hotel RC Residency. Brokered a deal for Rs. 3,000 for two rooms. (Hotels in India works through Cash only if you go directly and don't expect a tax bill)
We headed to Golden temple but it was way too crowded even at 10:30 PM in the night. We just roamed a bit and went to Brothers Dhaba for dinner. We found the food to be decent. Had Paneer, Dal makhni and Jeera Rice.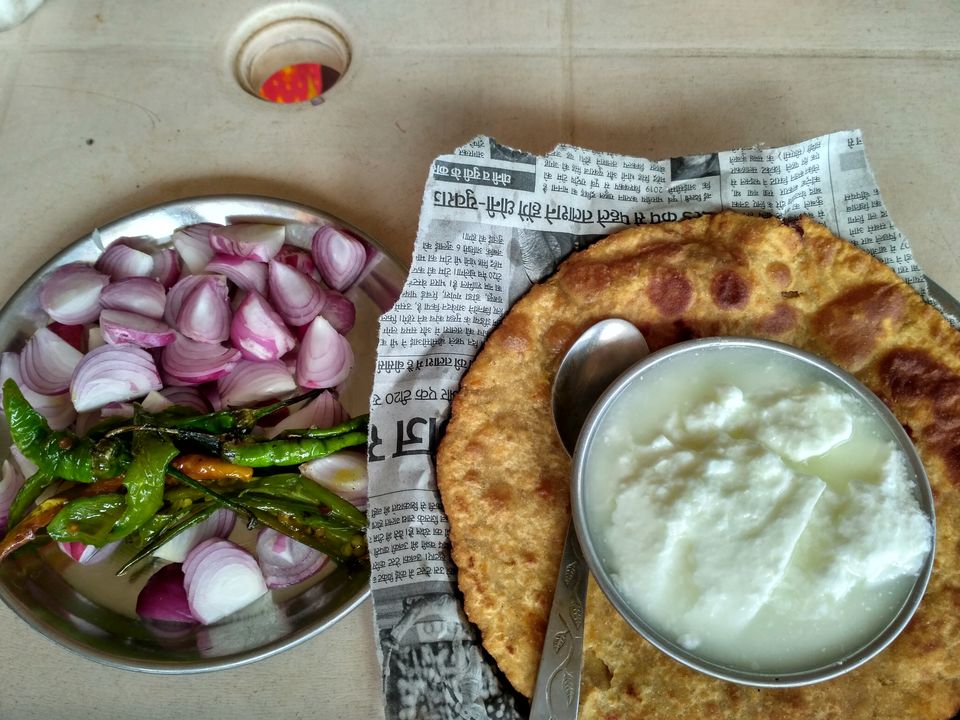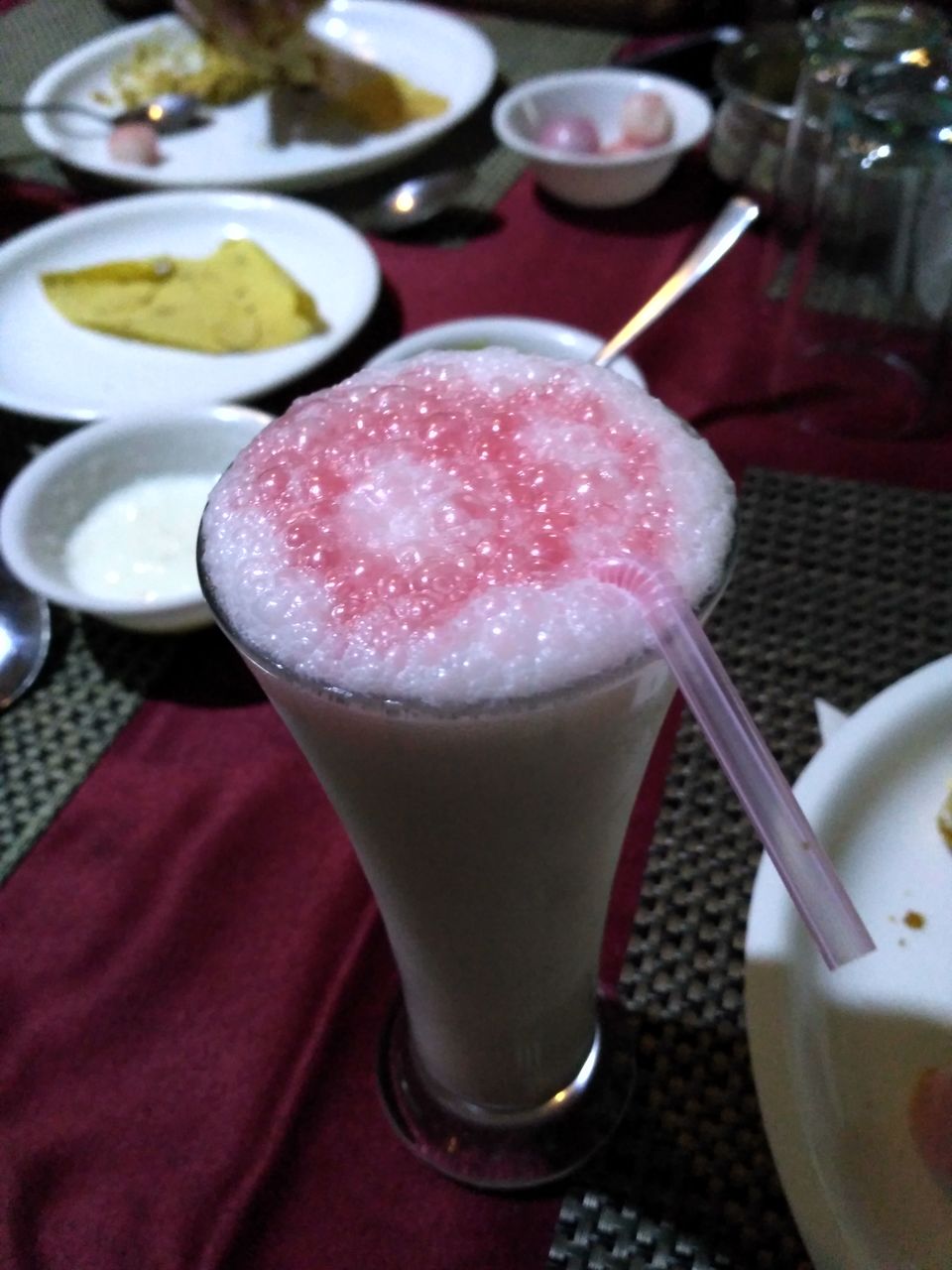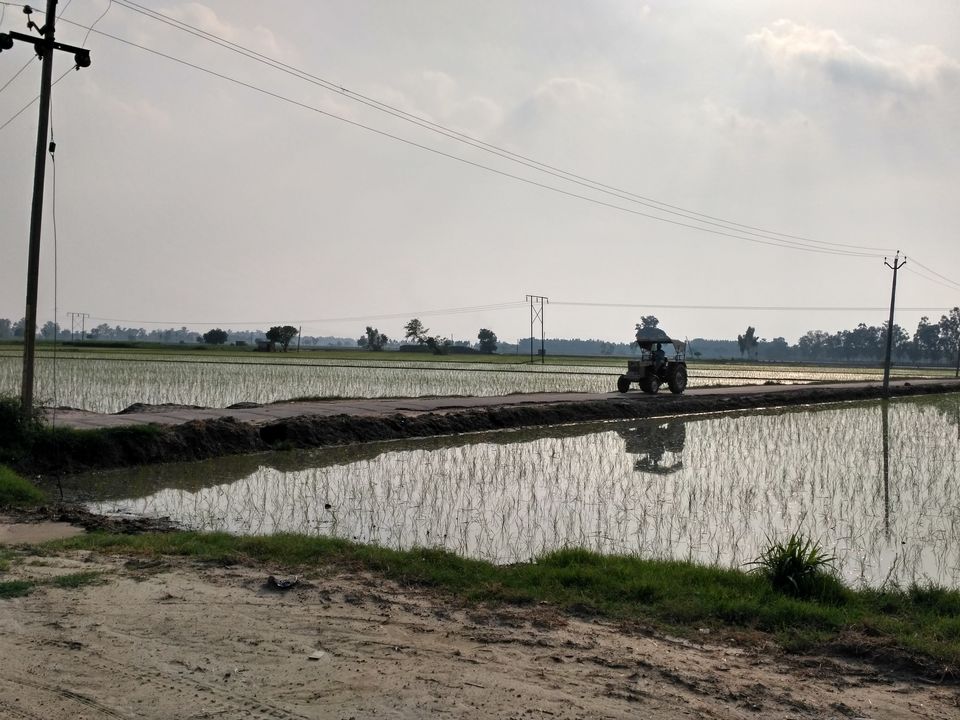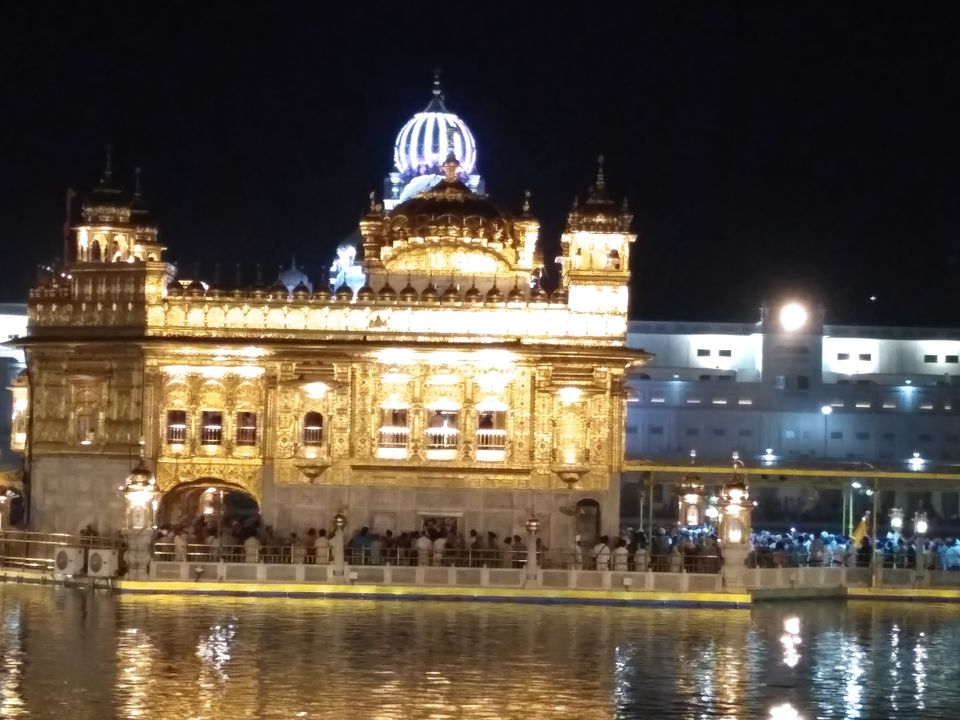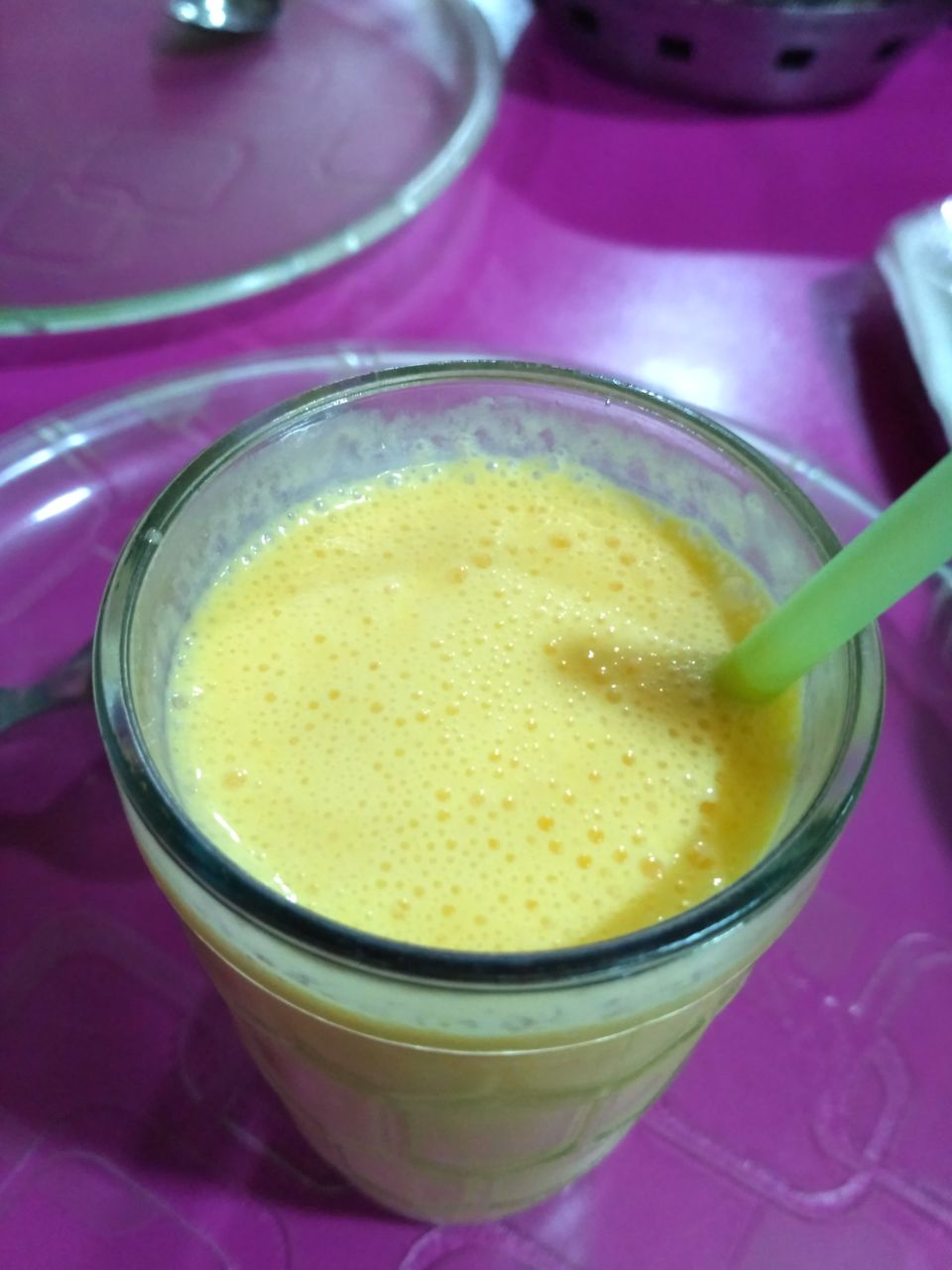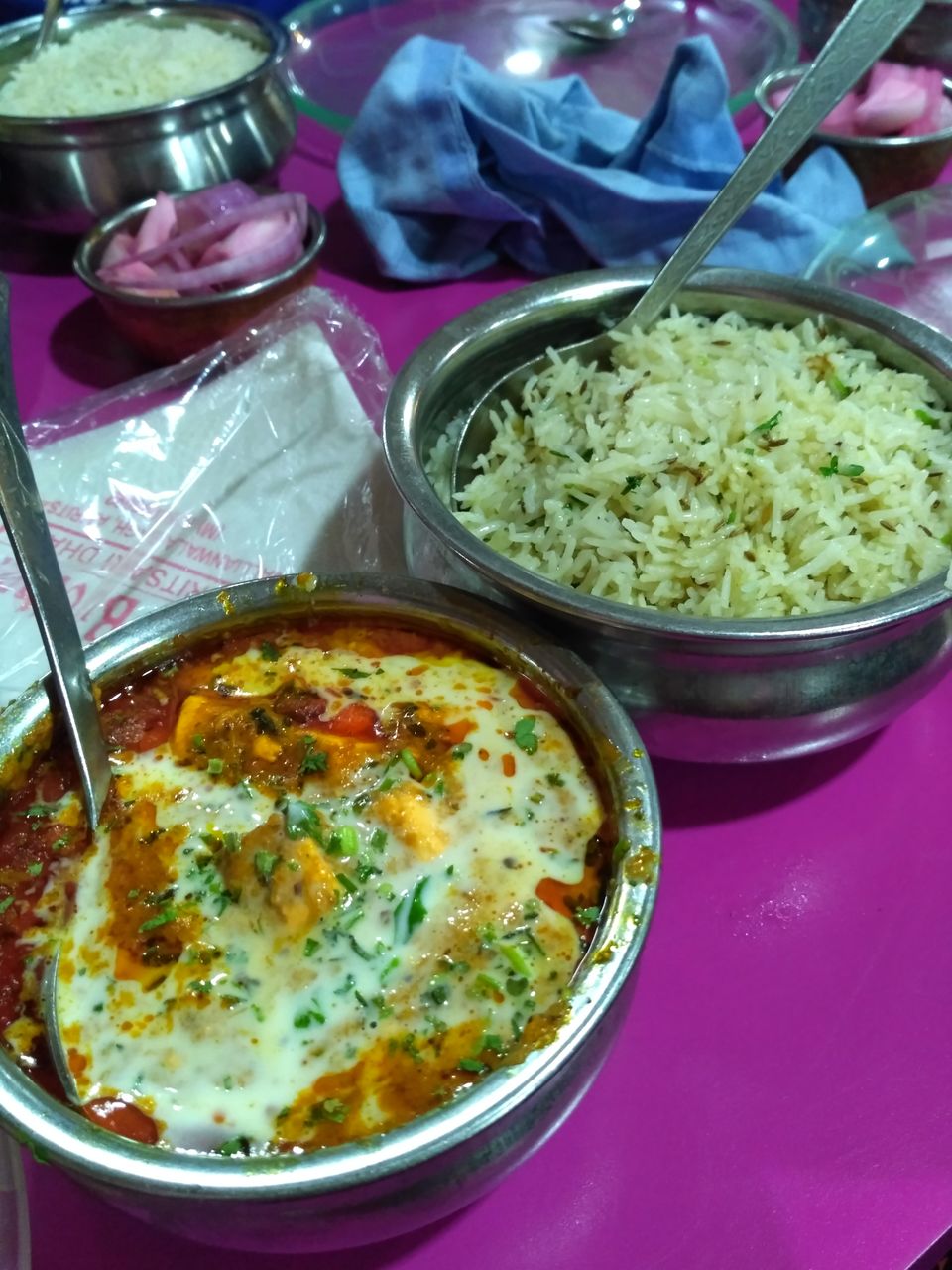 Day 4: Amritsar – Srinagar
We started off early by 6AM. The roads till Pathankot is 4 lane highway. After Lakhanpur, the state of Jammu & Kashmir starts. The roads are highways till Samba and single lane shortcut to Udhampur (60kms). The mountain roads start from Udhampur onwards. We got stuck in a traffic jam near Banihal, near Anantnag and somewhere before Srinagar. On the way we were helped by a family who recommended another route to reach the city. When we were just in the outskirts of Srinagar, we witnessed stone pelting. But luckily they did not target the tourist vehicles. The main entry to Srinagar was closed and we had to wait in a petrol bunk to enquire about the situation and alternate routes. People there helped us in suggesting another route via the lanes. We were quite tensed as we were unsure about the situation inside the city. We reached Lal Chowk (main market area) and to our surprise it was all business as usual. We quickly checked into Hotel Kashmir International. Room cost Rs. 750 per night. We came down for a Kulfi (Kulfi with lime squeezed and honey – amazing taste) and went to Aman Dhaba for dinner.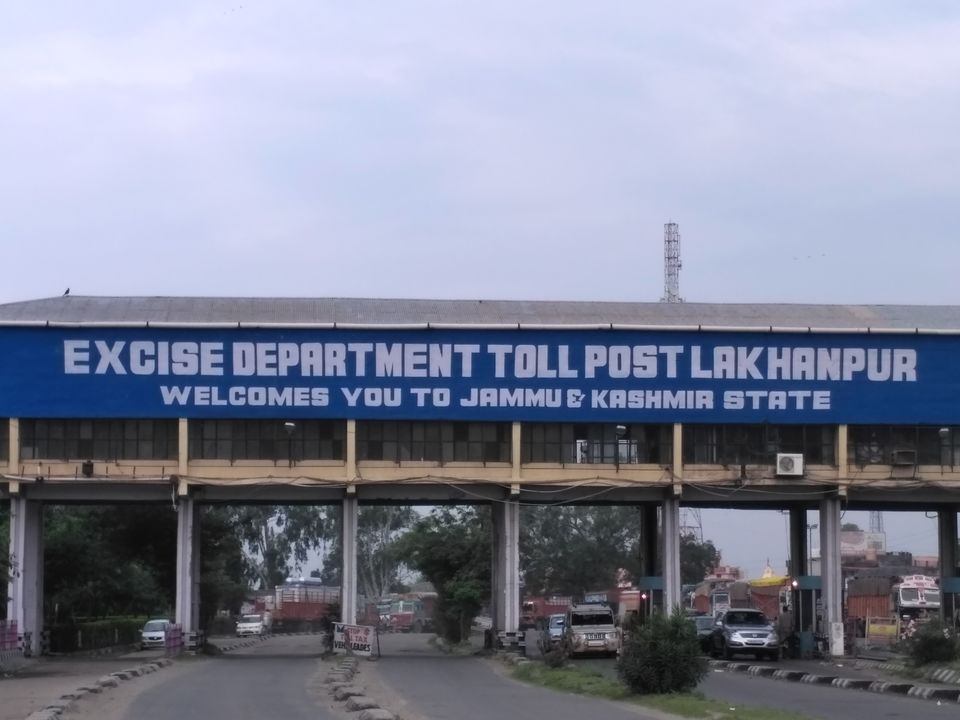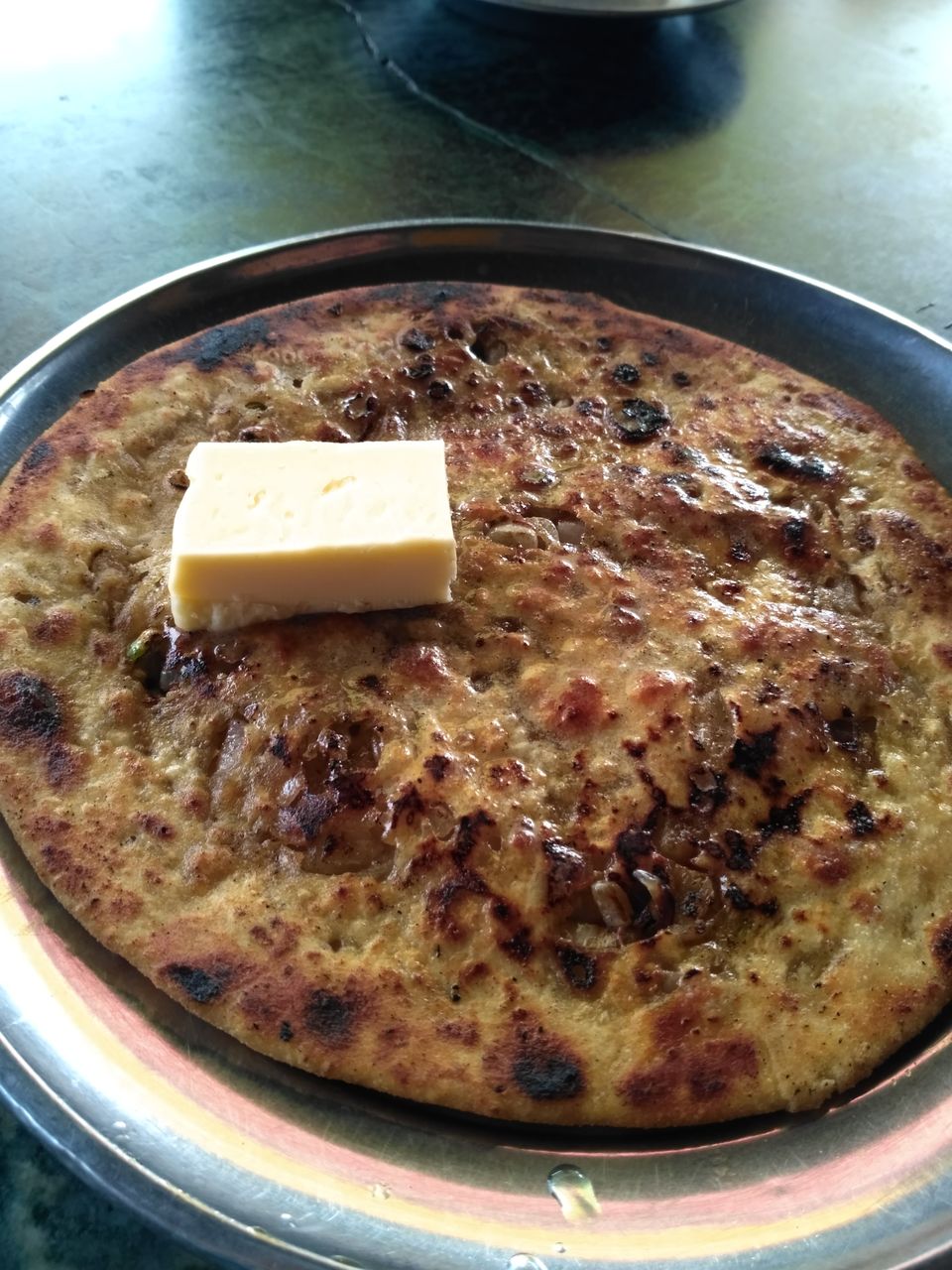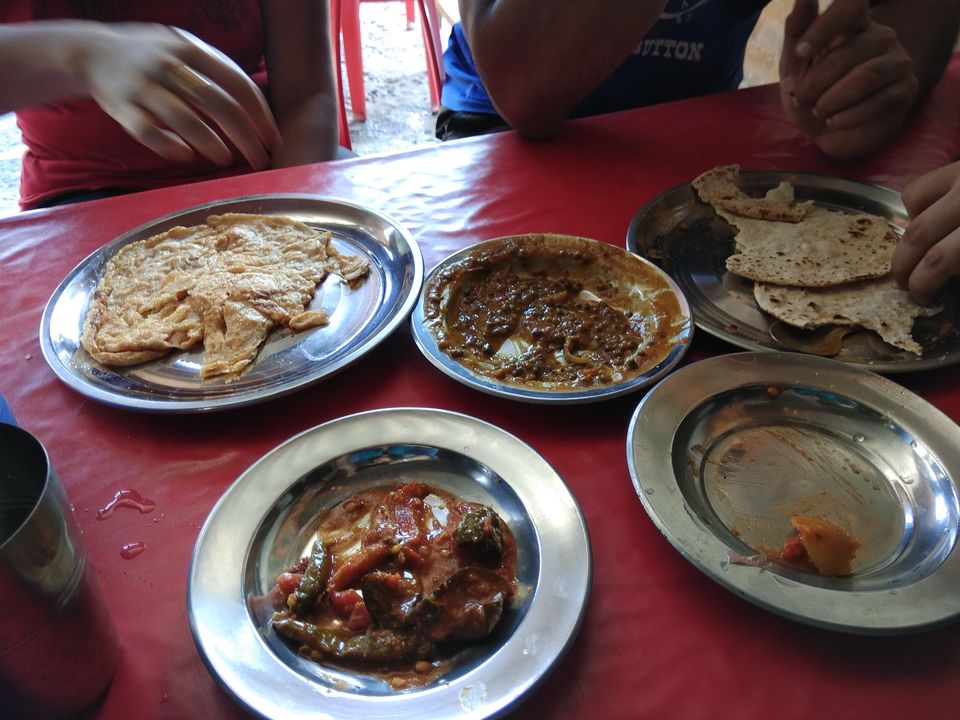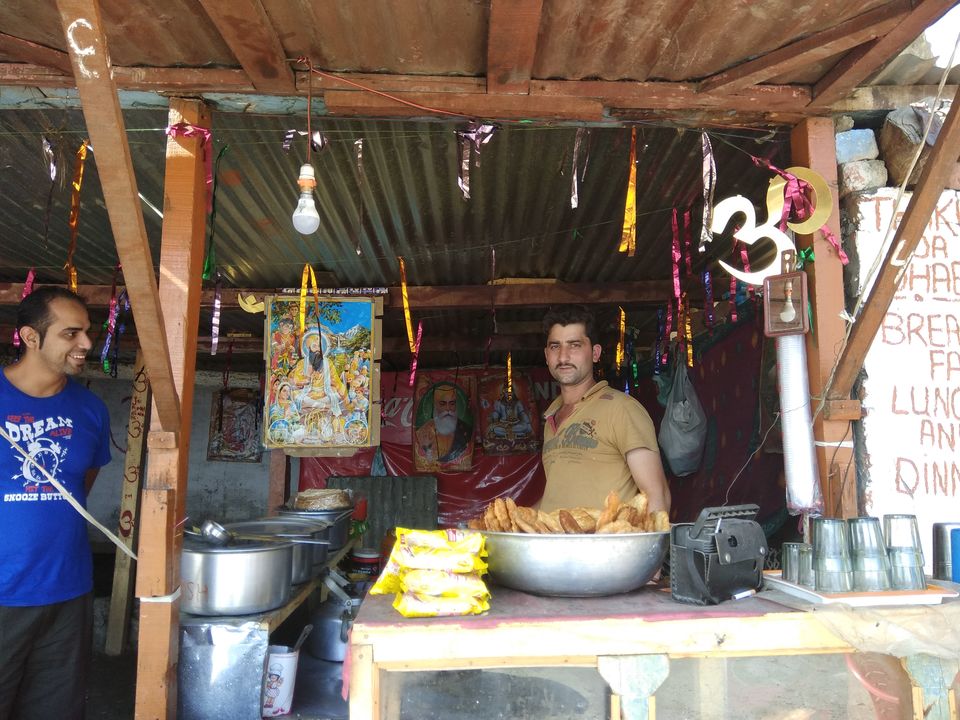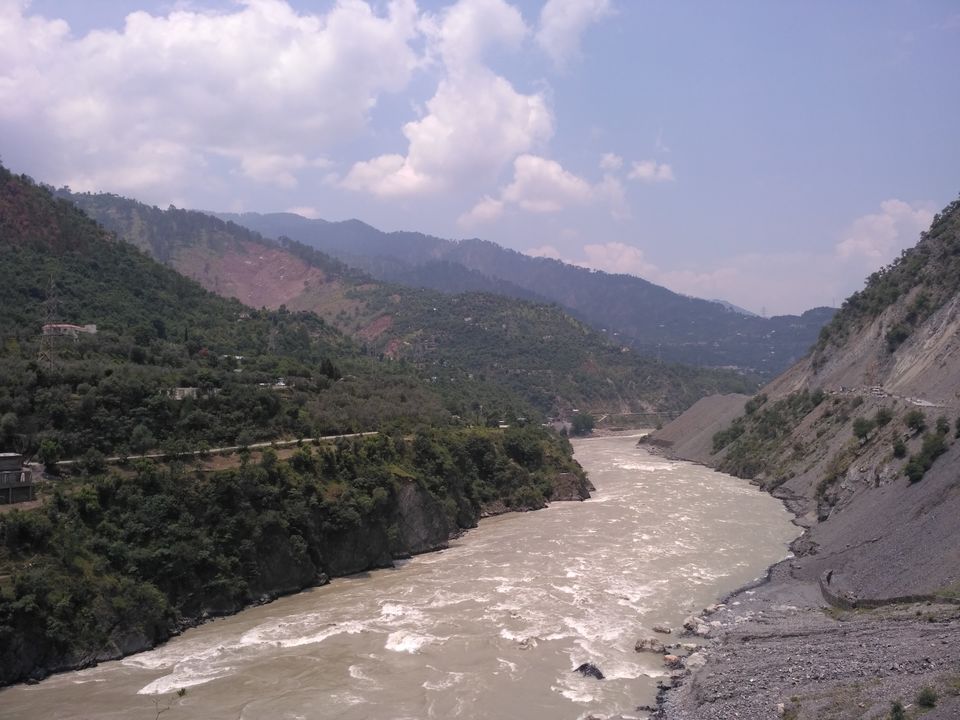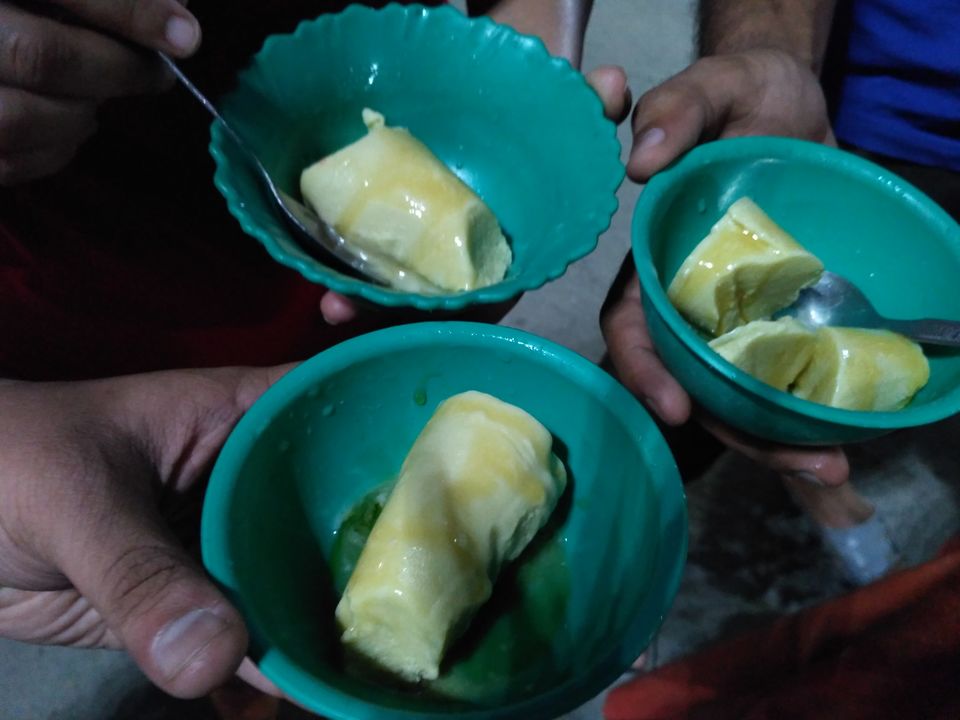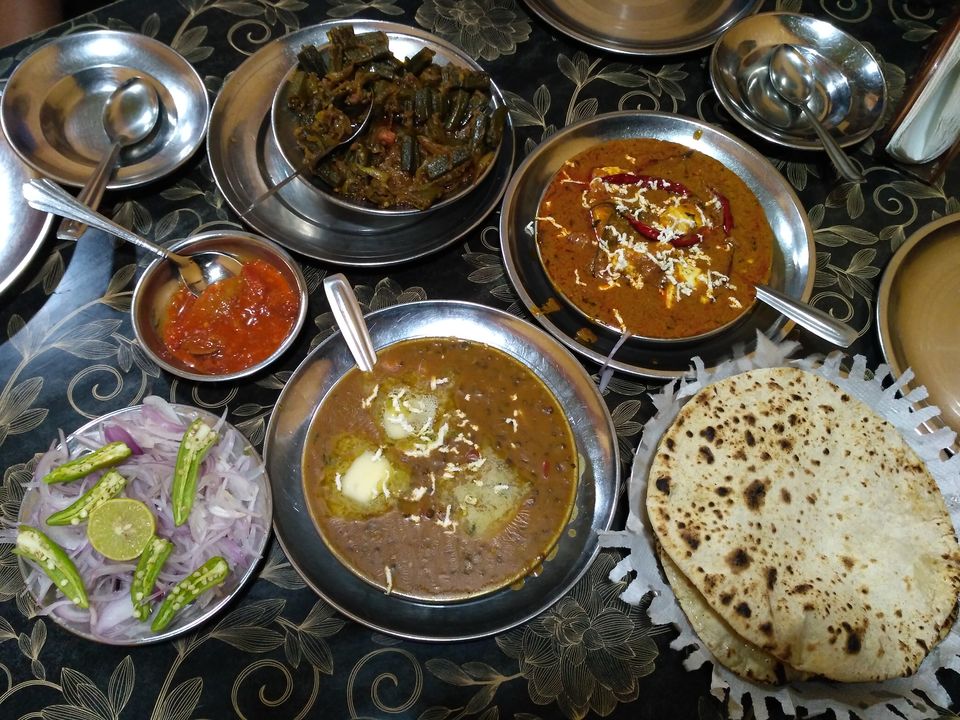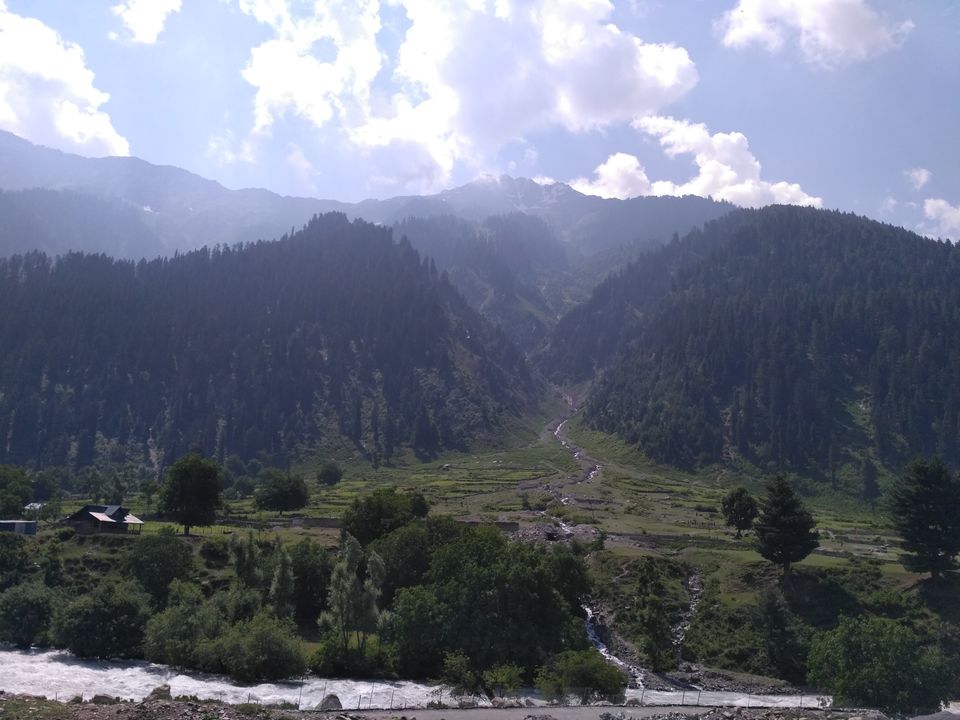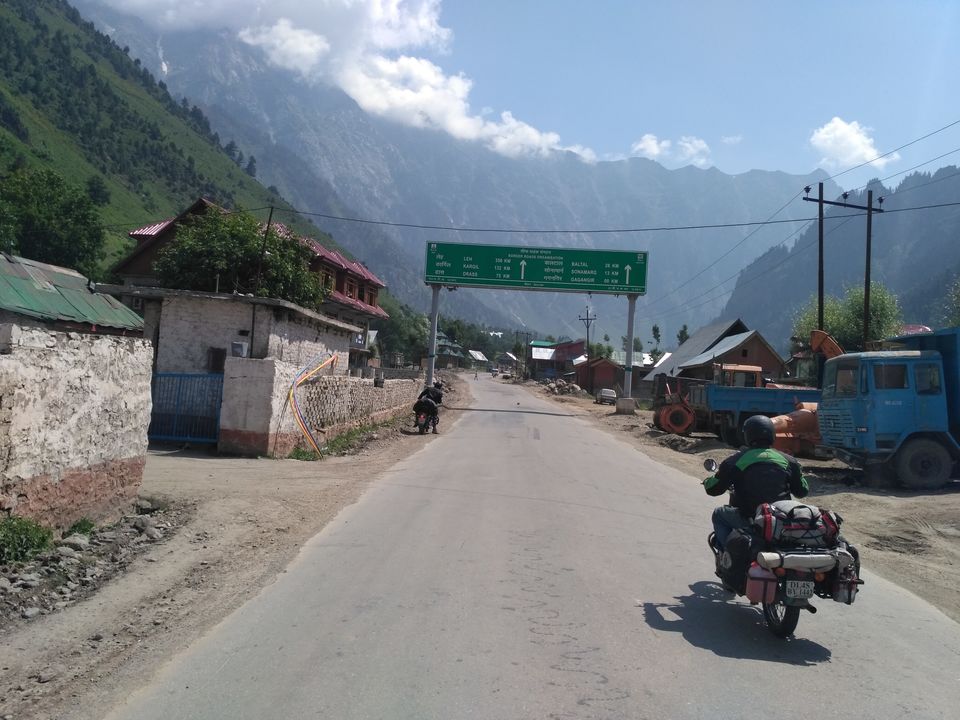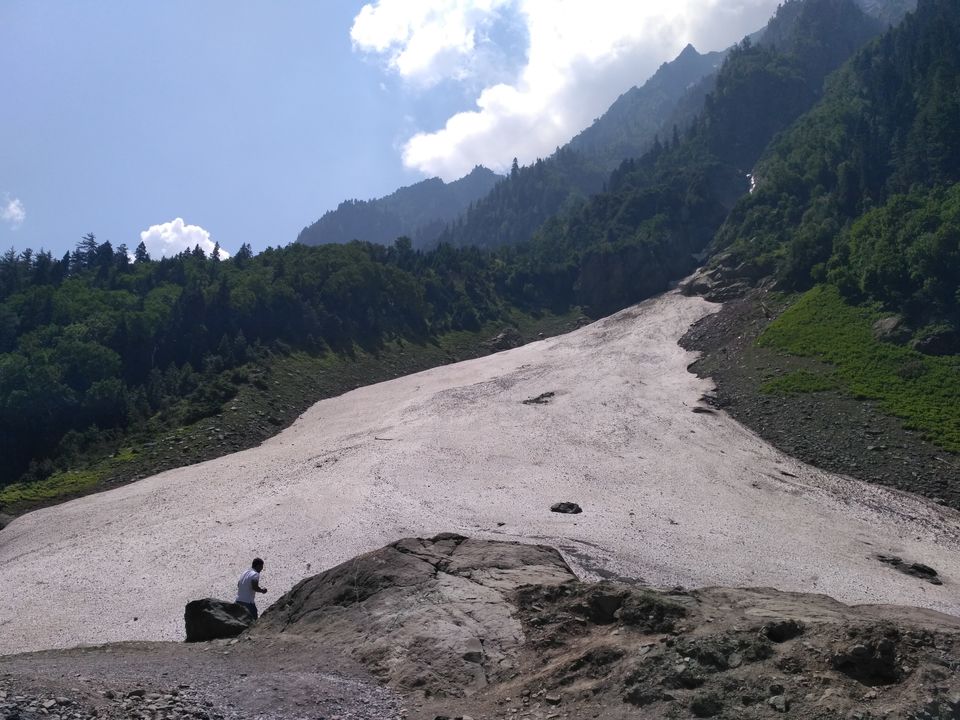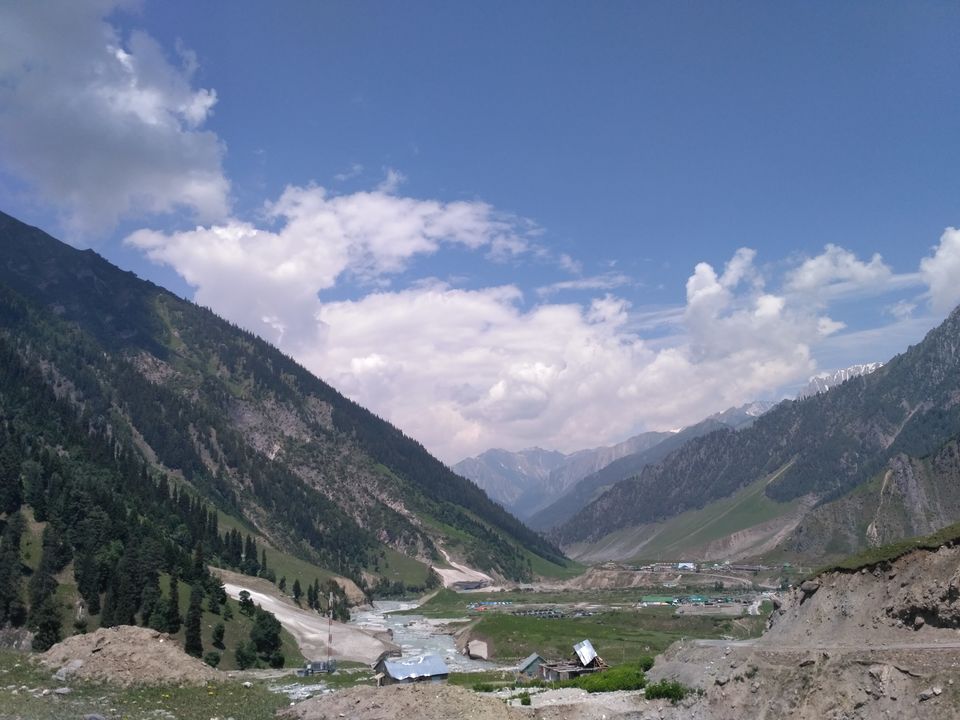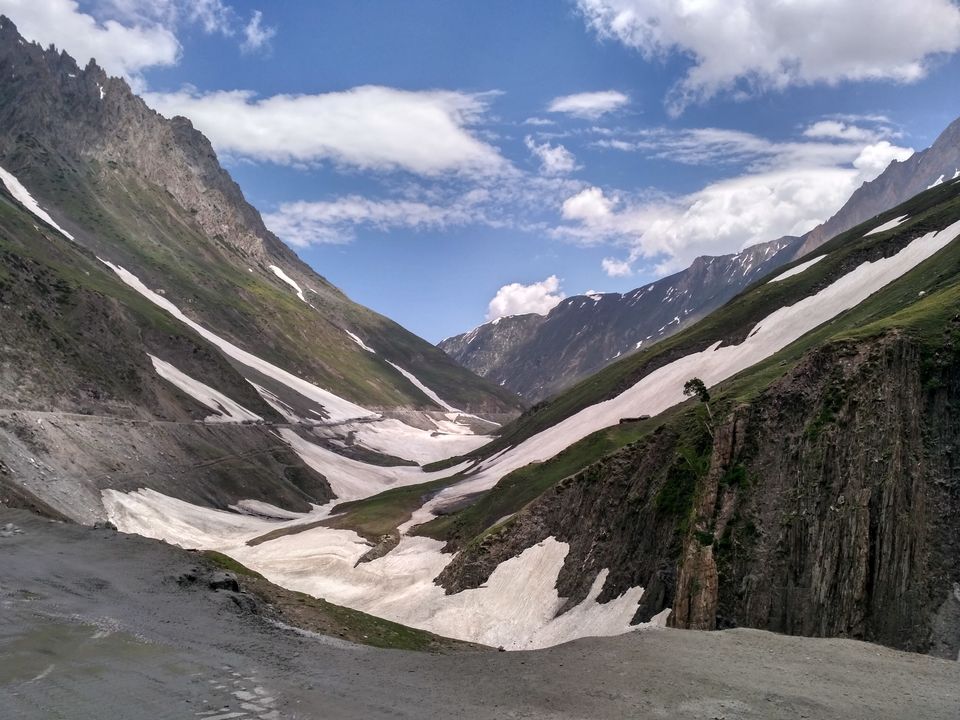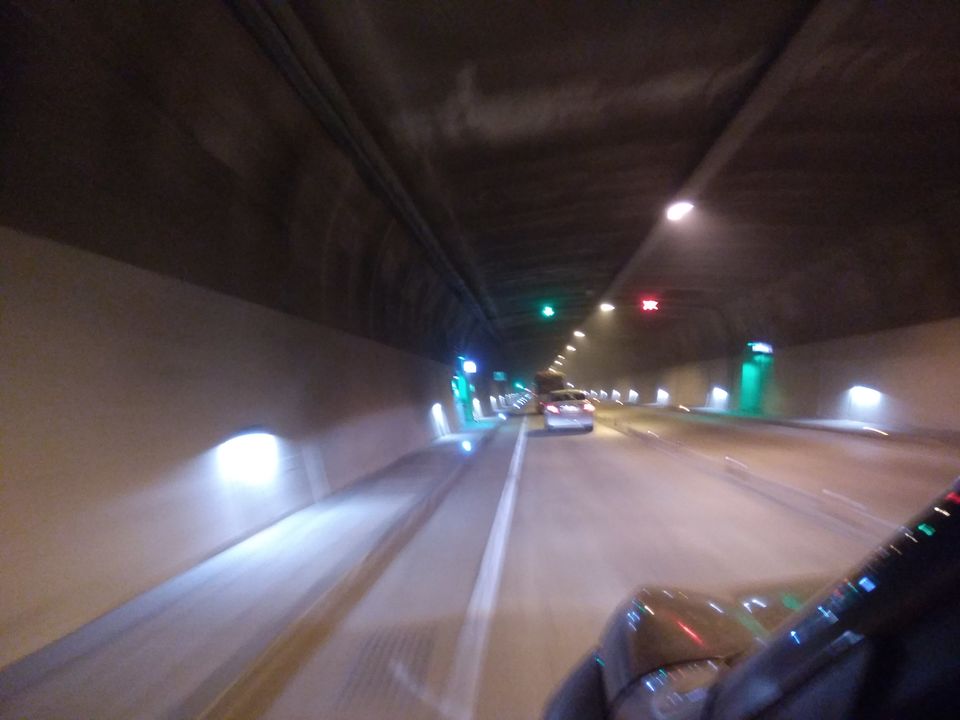 Day 5: Srinagar – Kargil
We were warned by one of the locals that the roads were in bad condition and better to avoid Kargil route. But we enquired with a few bikers on the way and decided to proceed. The roads till Sonmarg were really good and scenic. Kashmir valley is heaven on earth. Sonmarg – Zojila – Drass were terrible. We had a late lunch at Drass in a place called Adil Restaurant. This place is run by a couple from Uttarakhand. They served basic food but it was very delicious. 6 kms ahead of Drass is the Kargil War memorial.
Had a gut feeling that the rooms in Kargil would be full looking at the number of bikers and tourist vehicles. We reached Kargil at 5 PM and found all guest houses to be full and others were expensive. We found one Snowhill Guest House for Rs. 750 per night. We headed to the market in the evening but by then the shops were already getting closed as it was eve of Eid. We had the worst dinner of the trip as we tried some Chinese food in Kargil.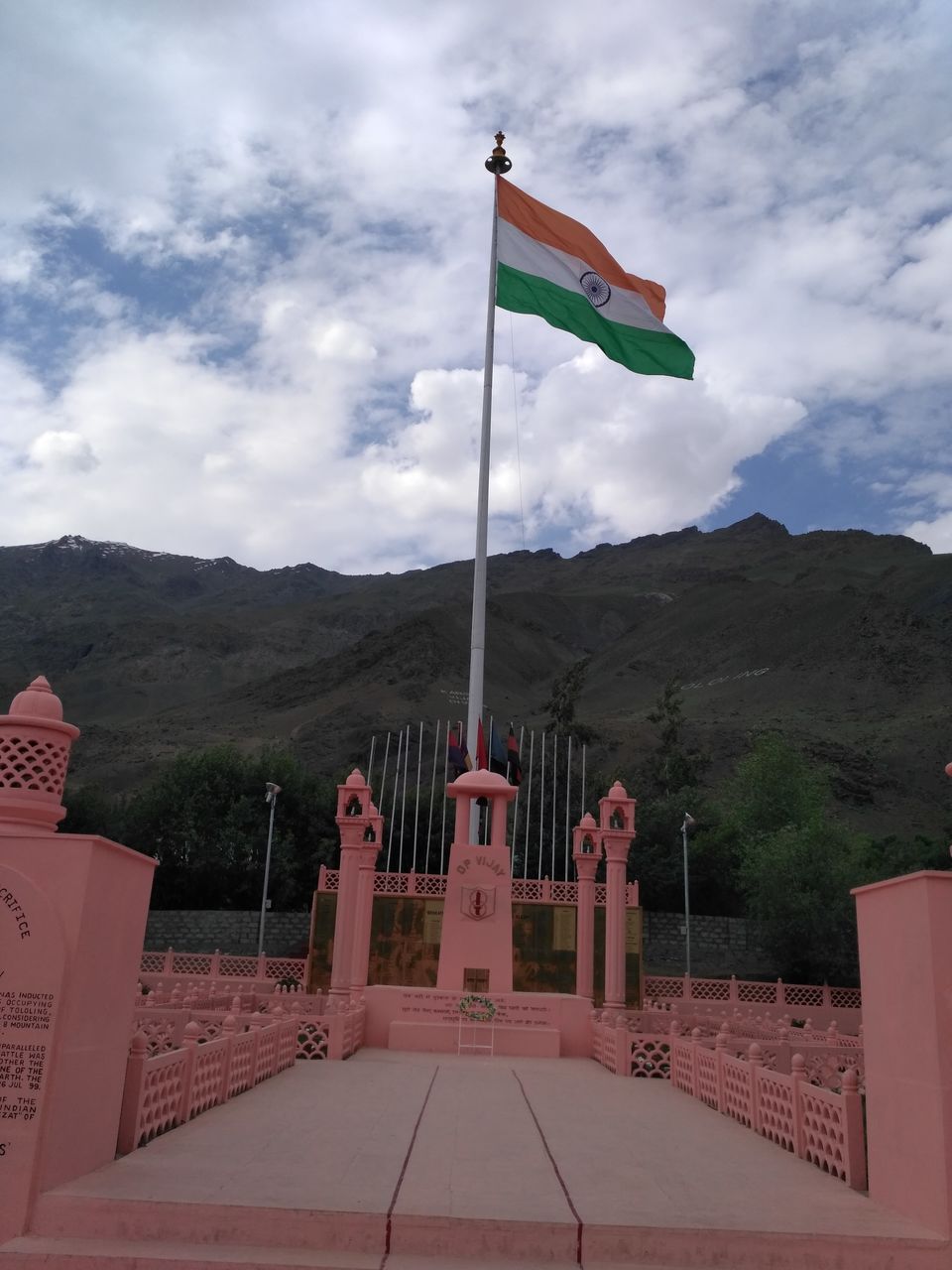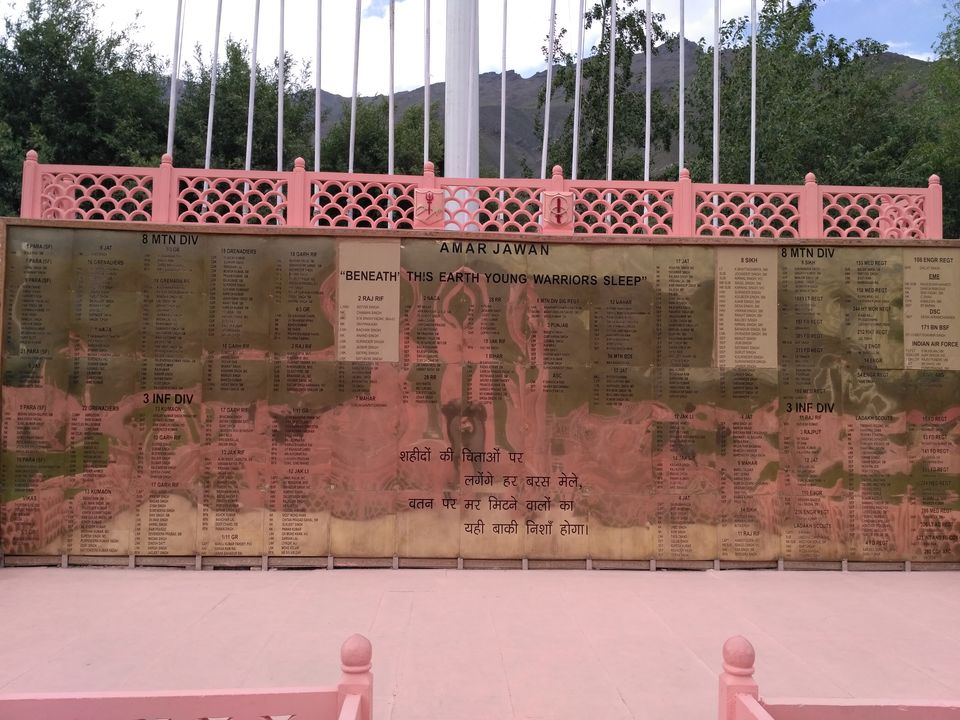 Day 6: Kargil – Leh
The drive from Kargil – Leh was a breeze as the roads were simply amazing. The route was quite scenic and we stopped at each of the mountain passes – Namik La, Fotu La to take photos. We reached Lamayuru by late afternoon. Visit the monastery to get great views of the Moonscapes (moon like landscape). The restaurant outside the monastery serves good food too.
As expected, all the hotels / guest houses were full in Leh. We did not make any advance booking. We went to one Greenland Guest House but the rooms were without bath attached. They rang up Otsal Guest House and checked for rooms. Luckily, there was one room with attached bath and one common bath. Got the attached one for Rs. 1,000 and common for Rs. 600 per night. There are a line of guesthouses in Changspa road. Reaching here was a problem as the roads were dug up for cabling and drainage.
There are many restaurants too in the same road. We liked 'Little Tibet' restaurant so we kept going there again and again. Try the Chowmein, Pasta and Roti/Paneer.
Places to visit: Mulbekh Monastery, Lamayuru Monastery, Zanskar-Indus Confluence, Gurudwara Pathar Sahib, Magnetic Hill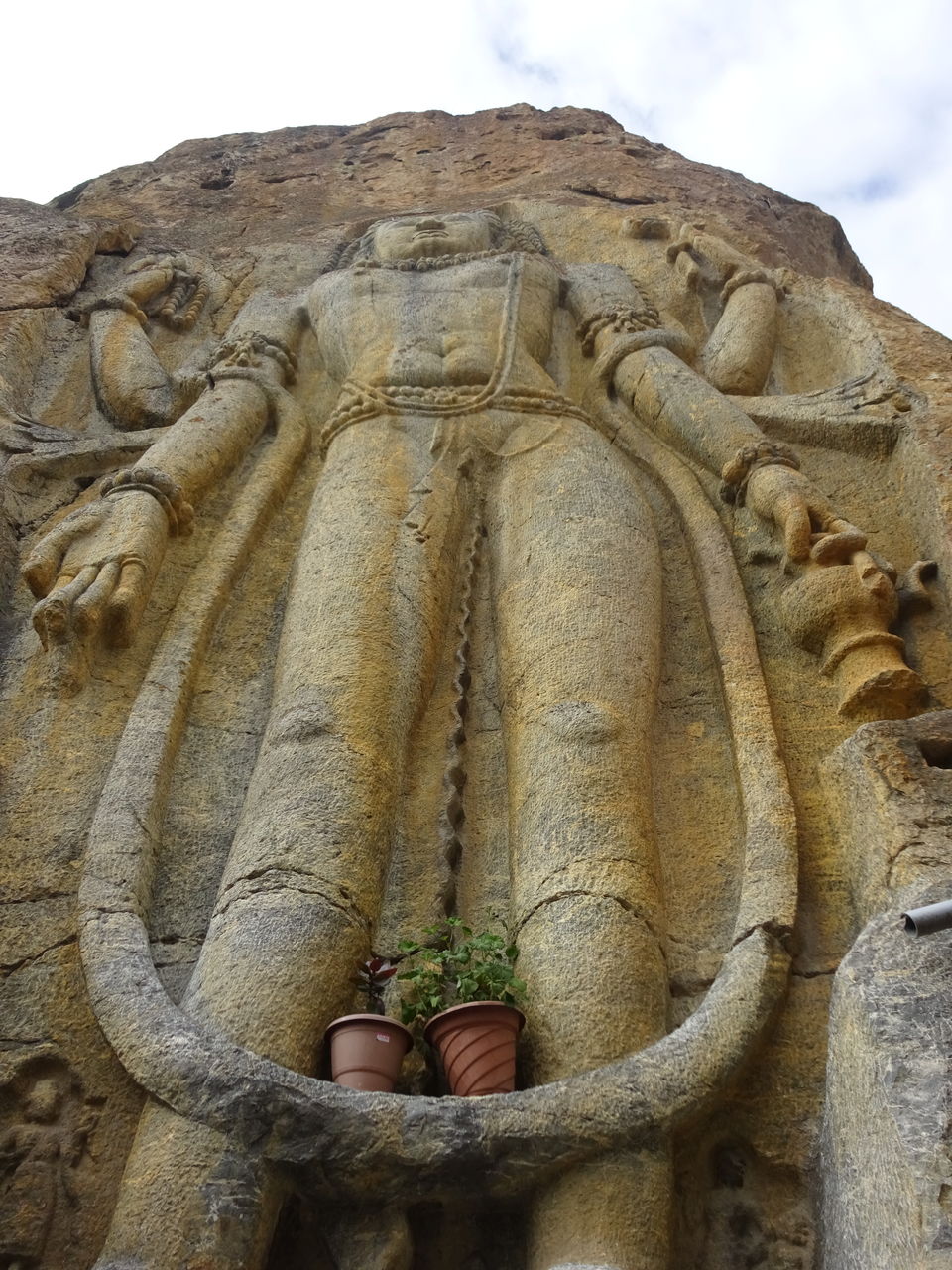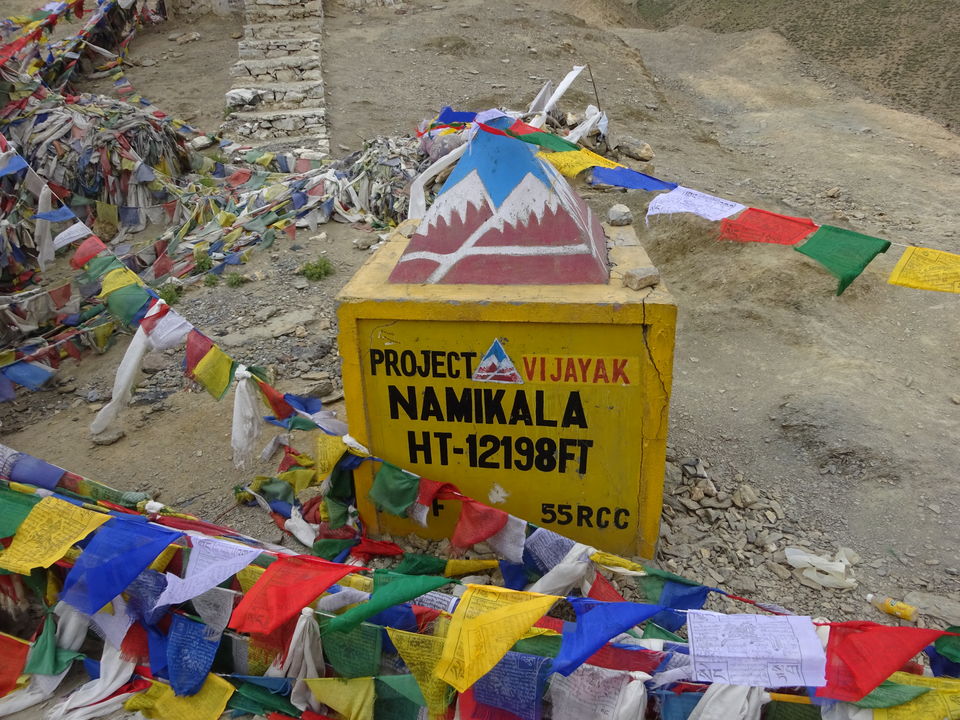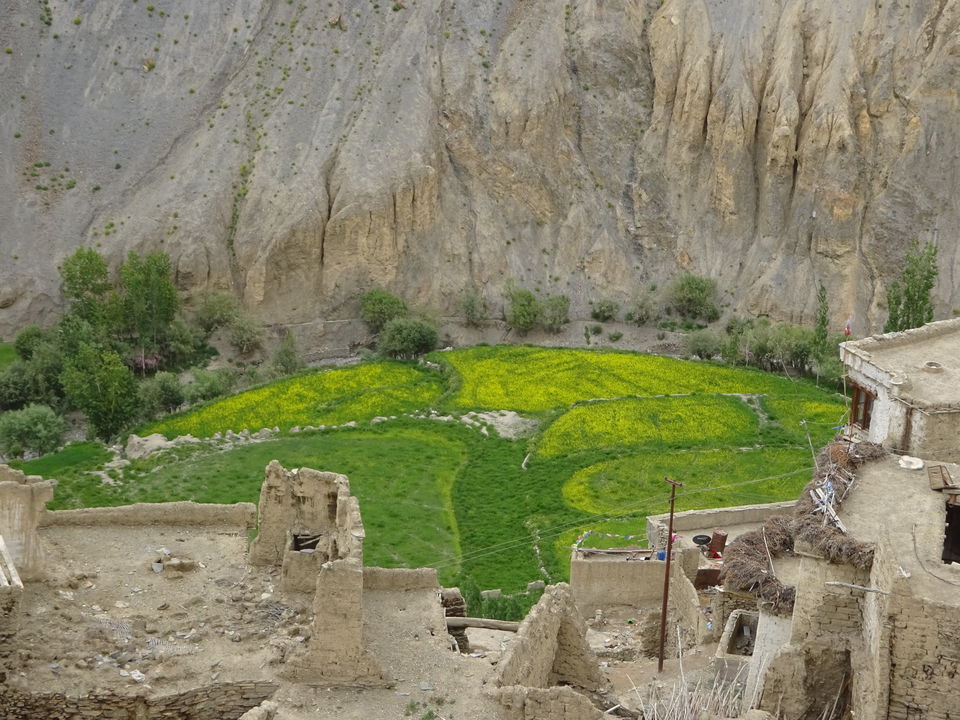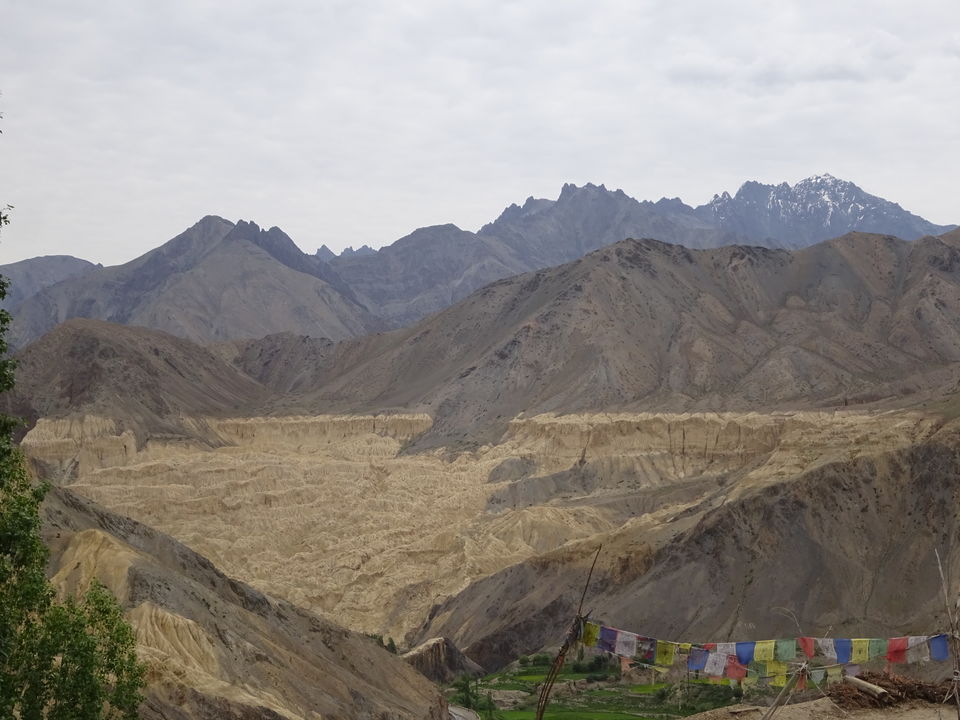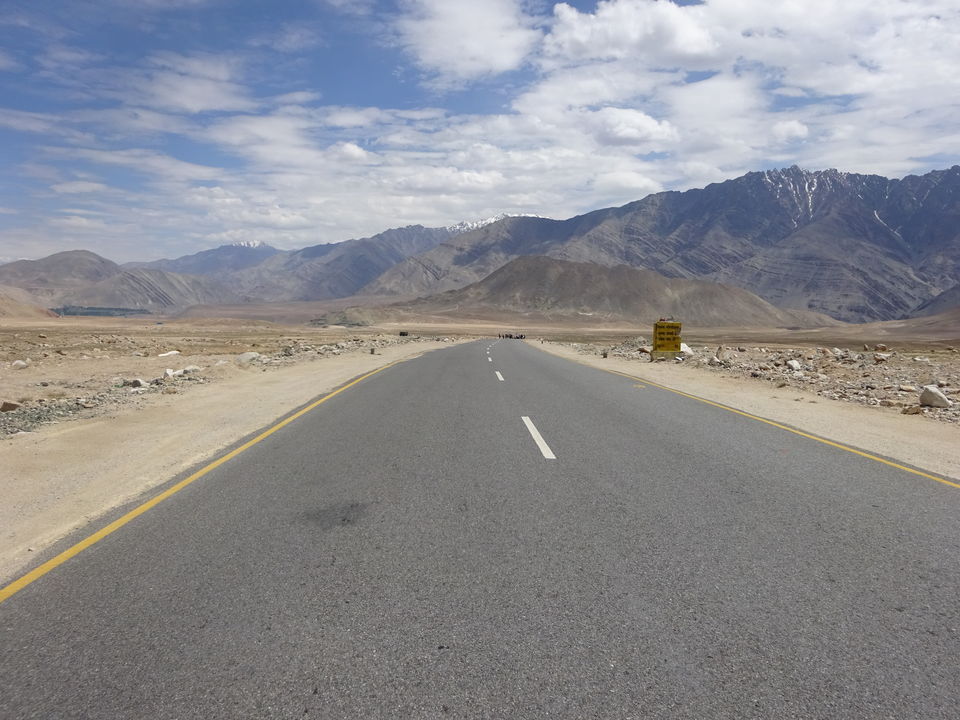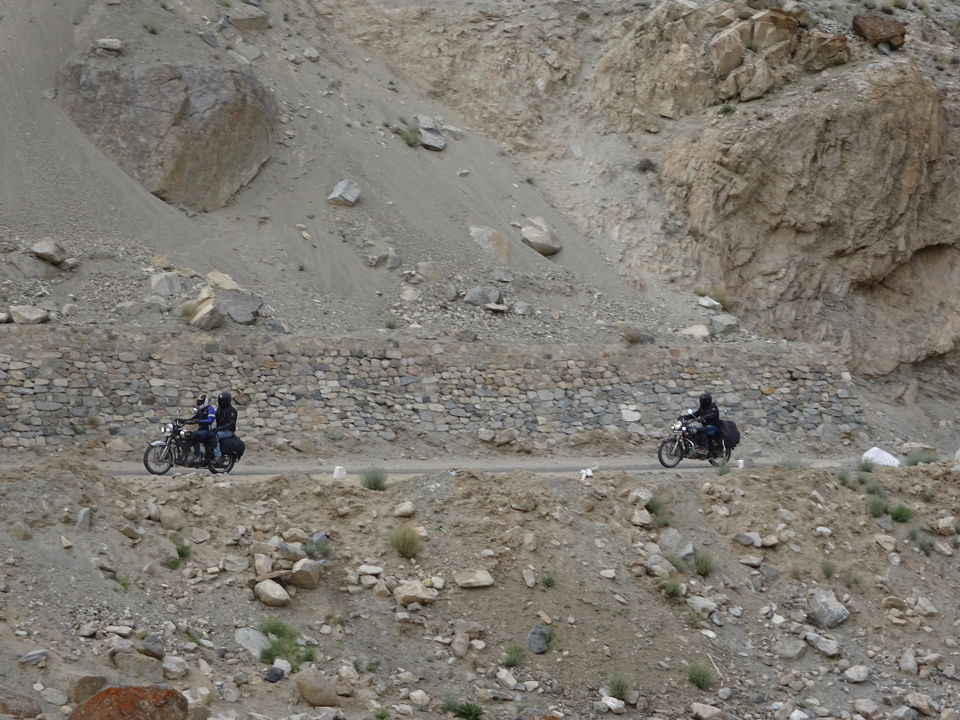 Day 7: Leh
First thing, we wanted to get the Inner Line Permit from DC office for Pangong Tso, Nubra Valley. Its a simple procedure. Go to DC office by 10AM. Get the forms, photo id photocopied from a shop nearby. Fill in the basic details and submit in the first counter. They will call out your name. Pay the fees and collect the permit immediately. Make sufficient copies of the same to give at several checkposts.
Cost: Rs. 400 per person + Rs. 20 per day Wildlife fee per person.
We visited Shey Palace, Zanskar-Indus Confluence, Hall of Fame museum, Shanti Stupa.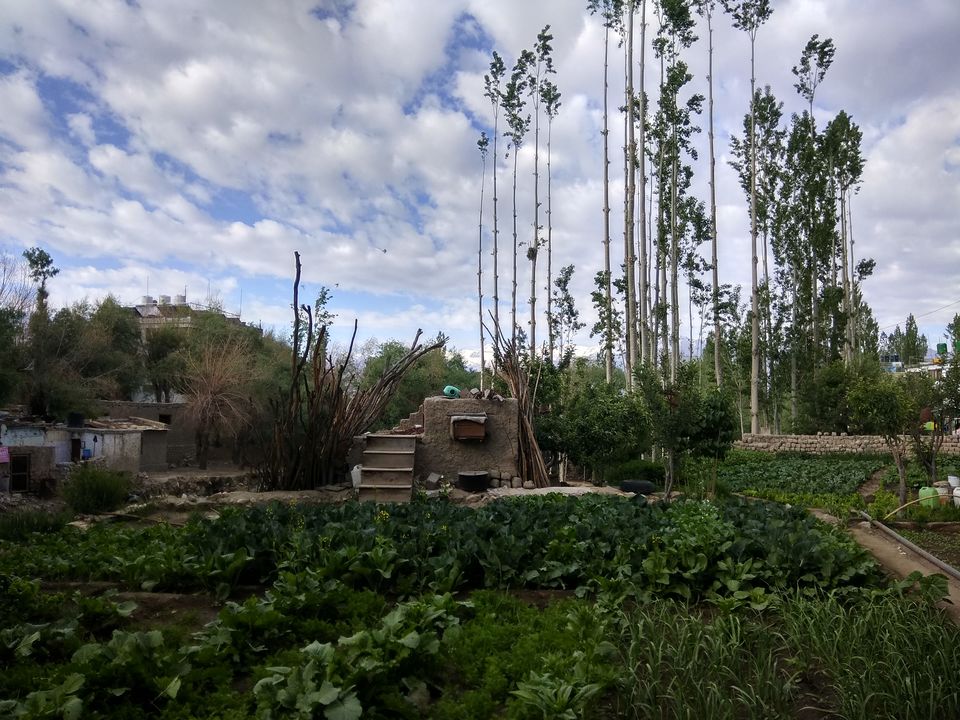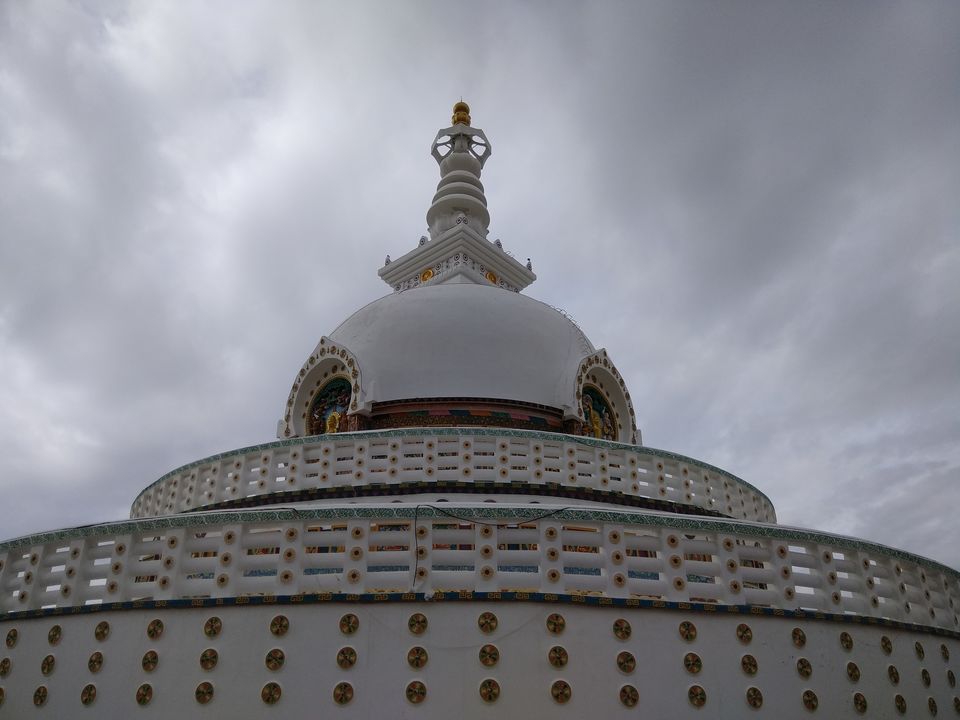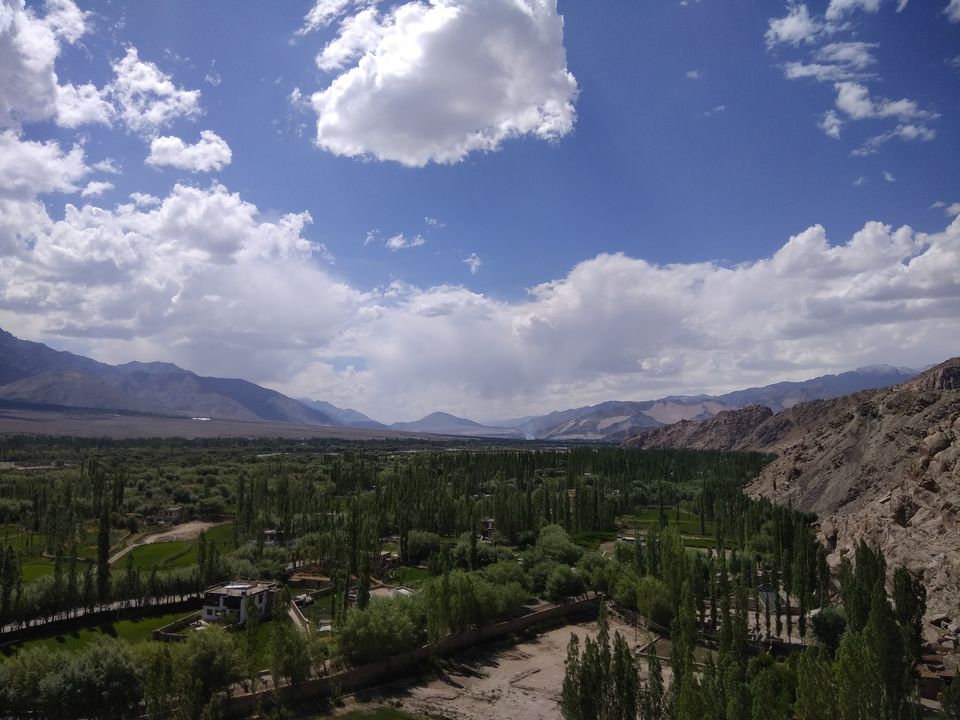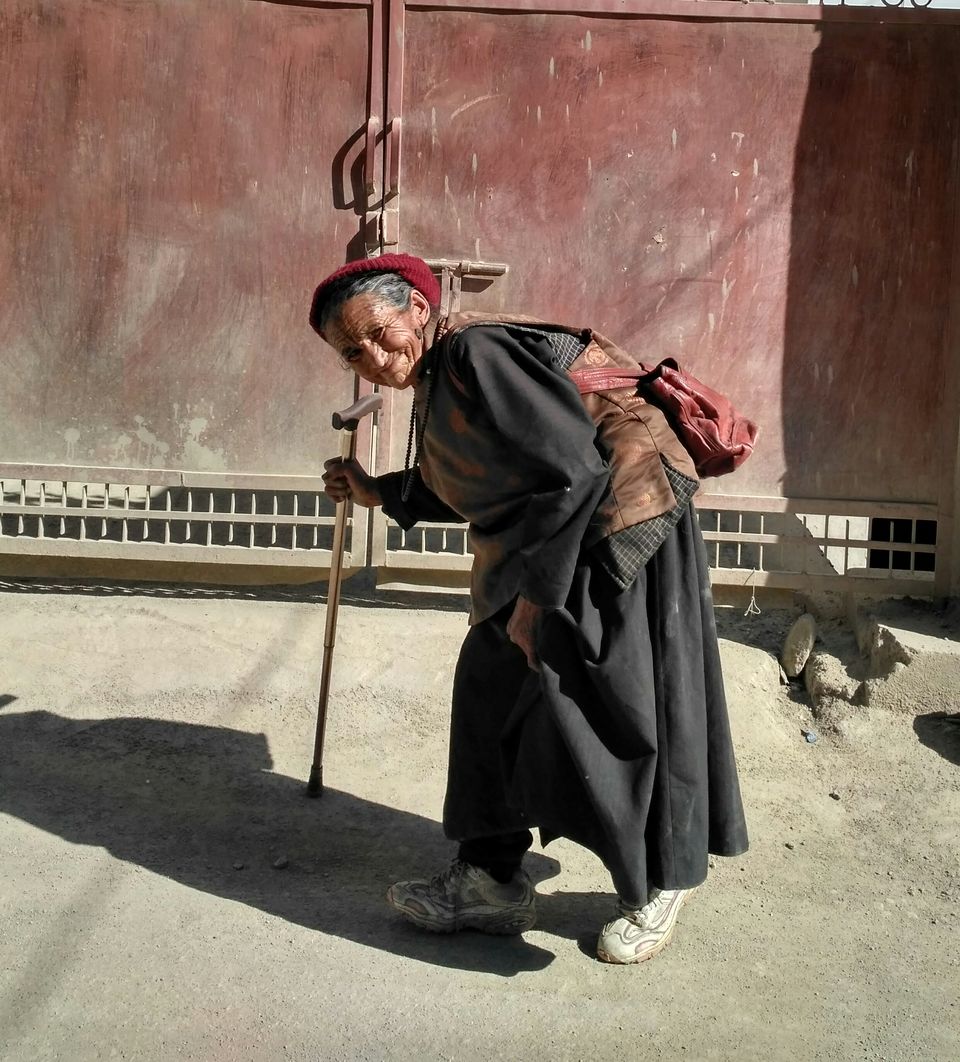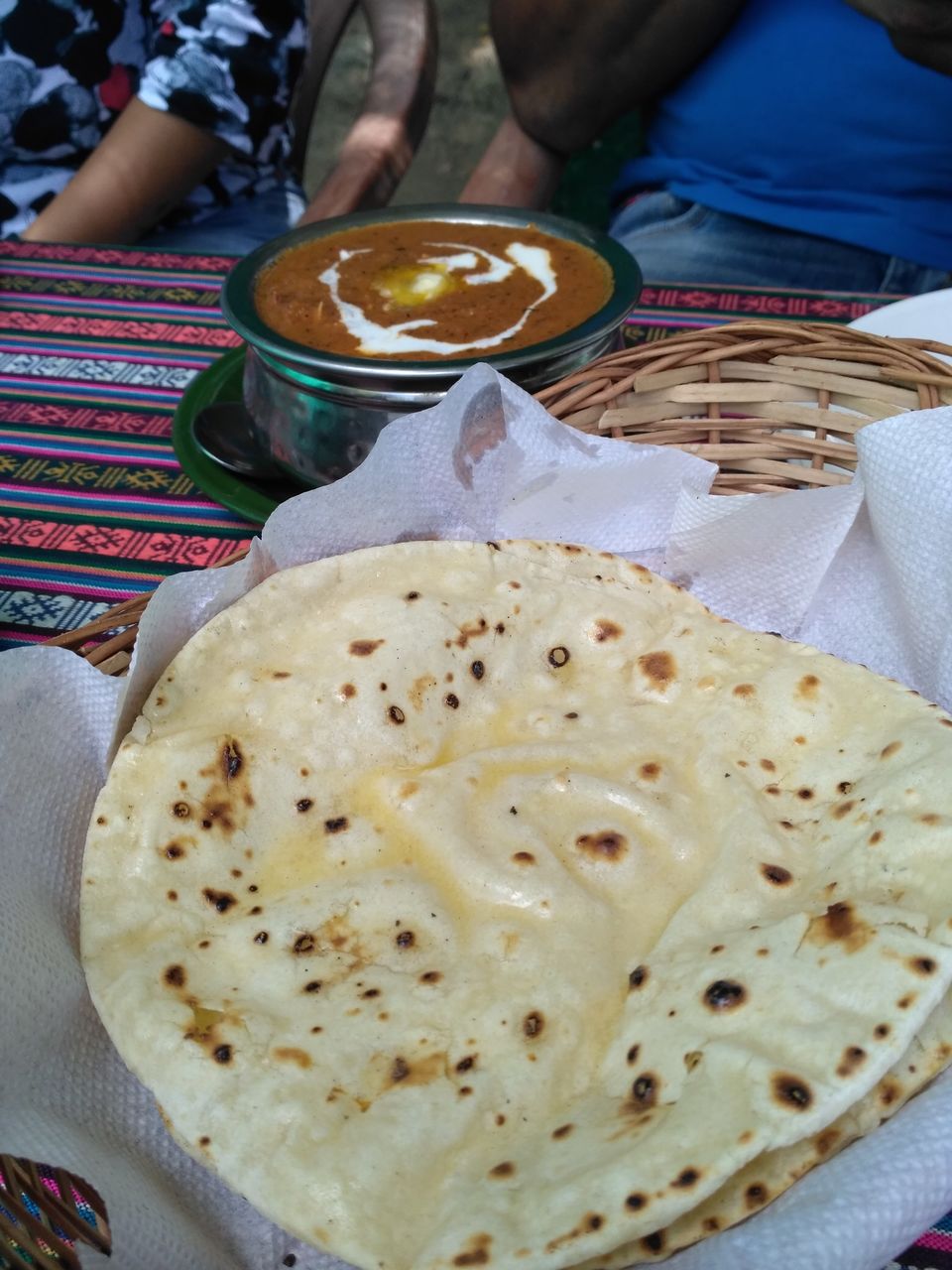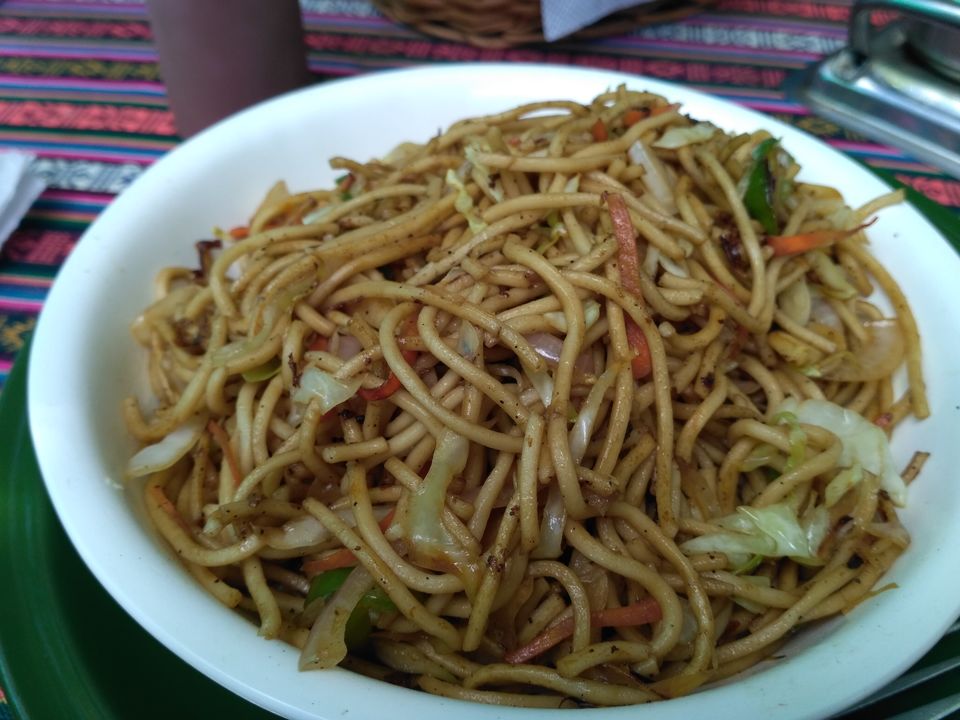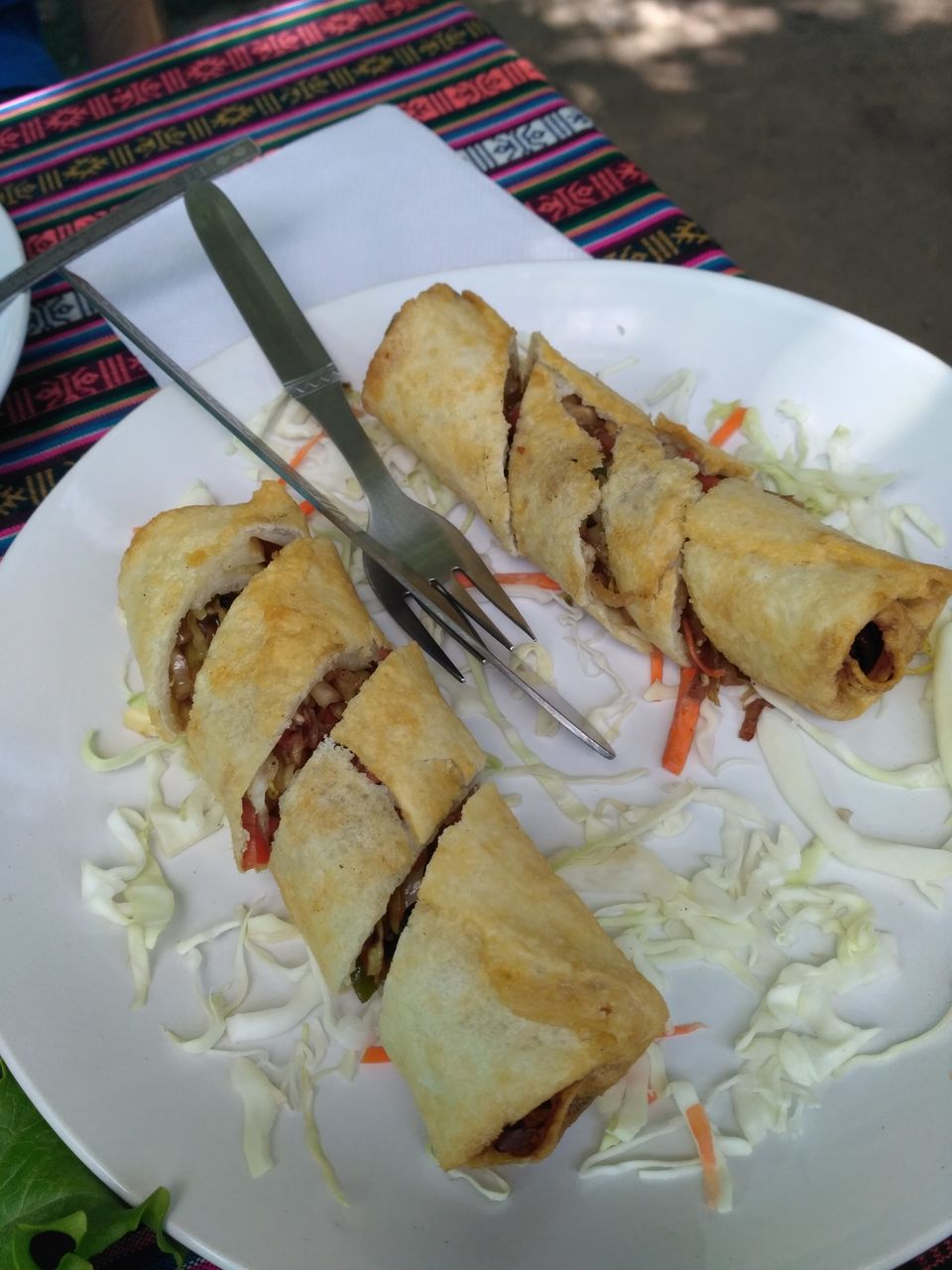 Day 8: Leh – Khardung La – Nubra Valley
The roads were decent till South Pullu. The roads worsen some 15kms before Khardung La. Our vehicle had got stuck in a couple of places but we somehow managed to pull it off without any trouble. There are frequent landslides, snow melting, stream crossings so do not expect any road at all. The BRO workers are there to clear the roads for you. Salute to them working in such extreme conditions. We reached Khardung La by early afternoon. It was way too crowded. Took a quick break and moved on. The roads were bad even after that for some 10-15kms. We did not face any severe AMS but we were all somewhat having little headache, dizziness, feverish etc. Had maggi, soup for lunch at North Pullu.
We reached Khalsar where we had to decide whether to head towards Diskit/Hunder or Sumur/Panamik. I decided that it would be better to go to Panamik as Hunder will again be crowded and possibility of finding a room will be remote.
Sumur is a must visit village when you're in Nubra Valley. It is not much visited by Indian tourists yet. It is a very quiet and beautiful village with amazing landscapes. We stayed a place called Namgyal Villa (Rs. 750 per night). Food was served (Rs. 150 for breakfast & Rs. 200/300 for dinner).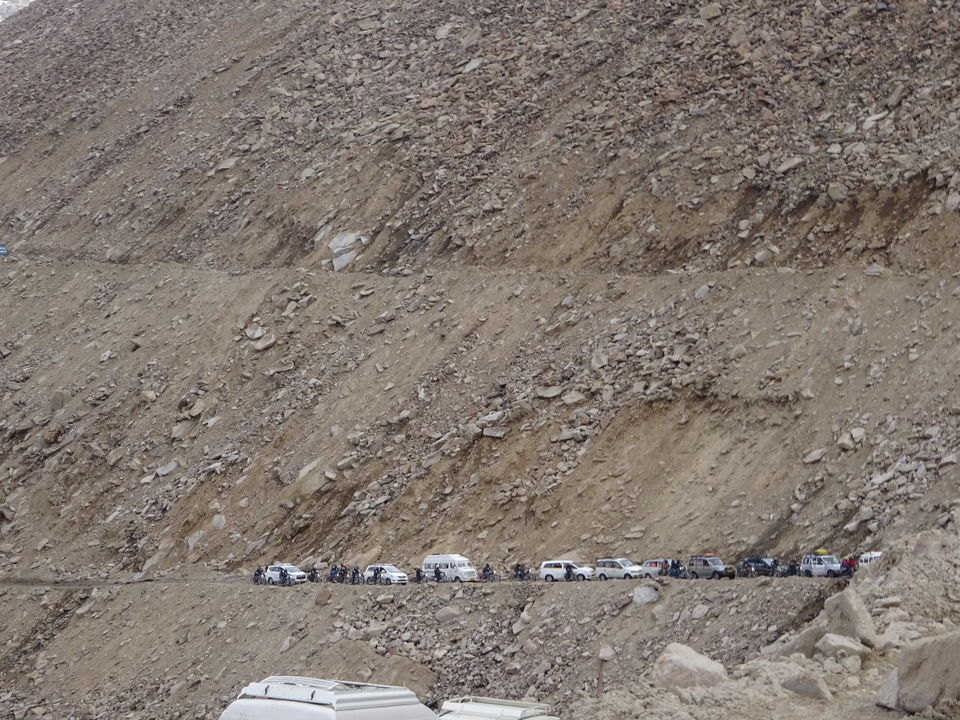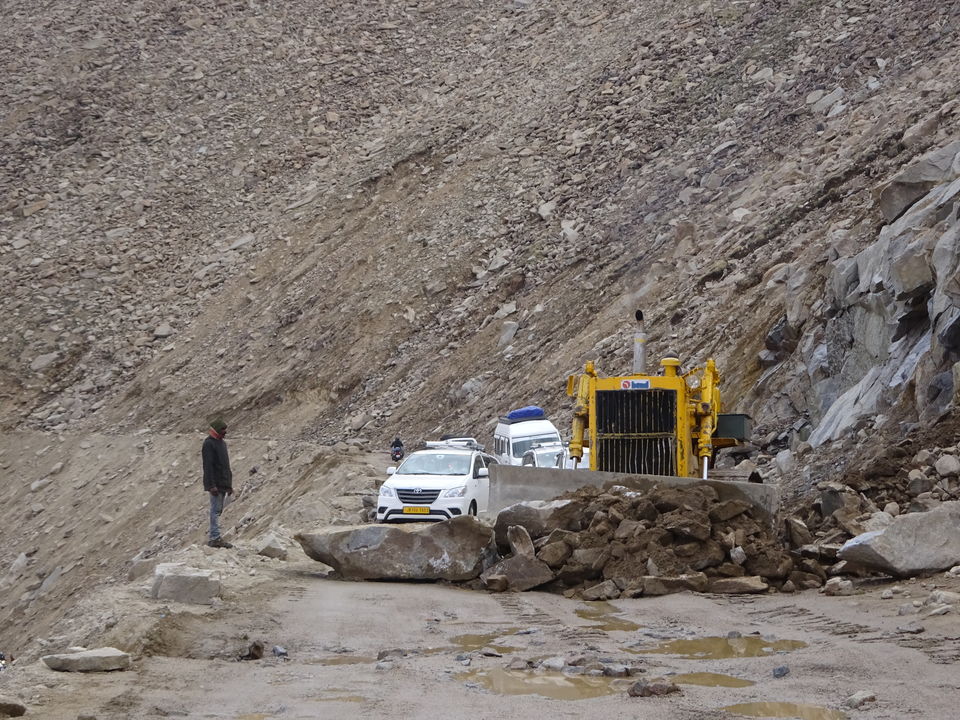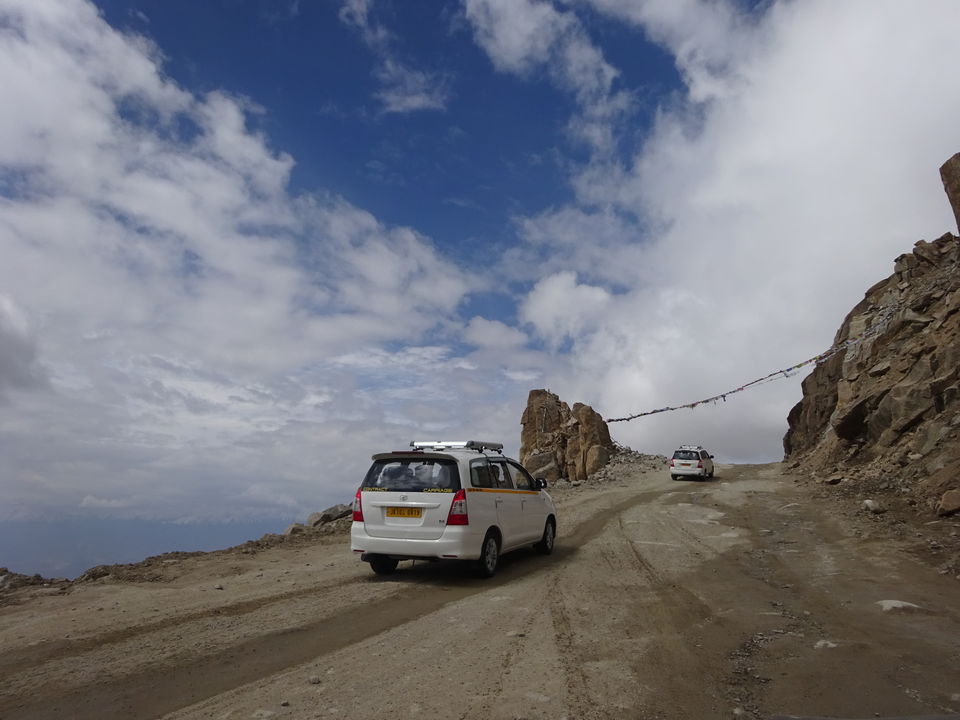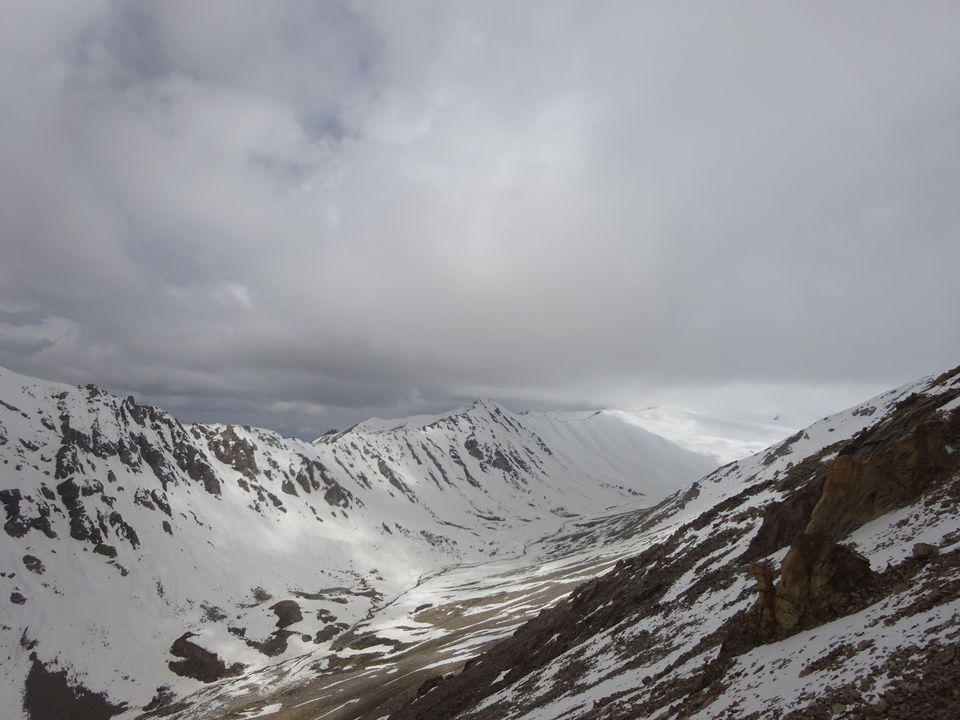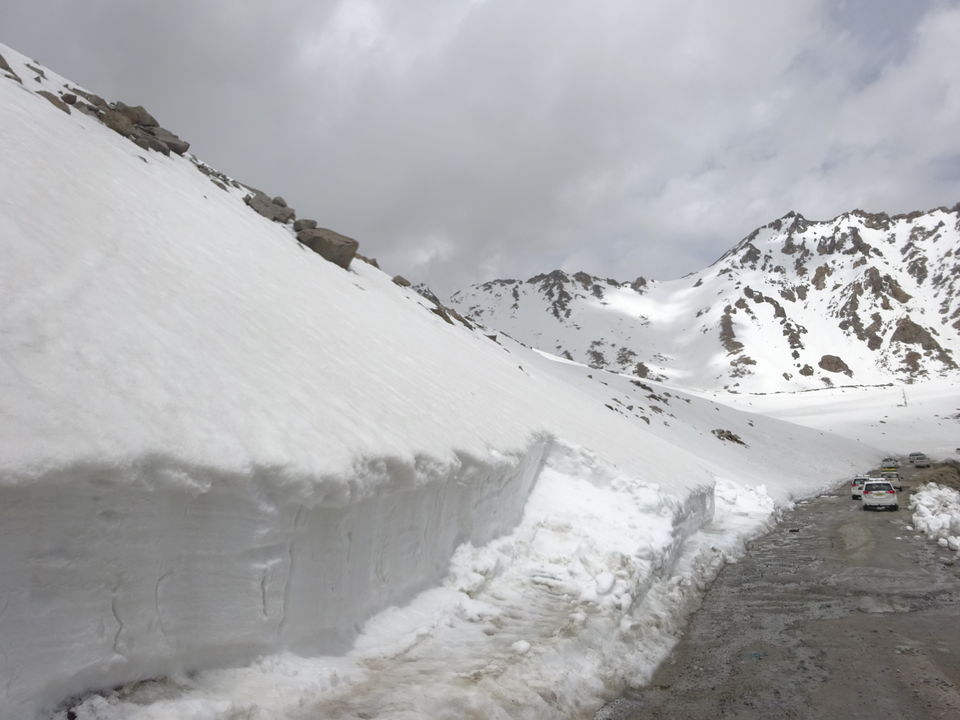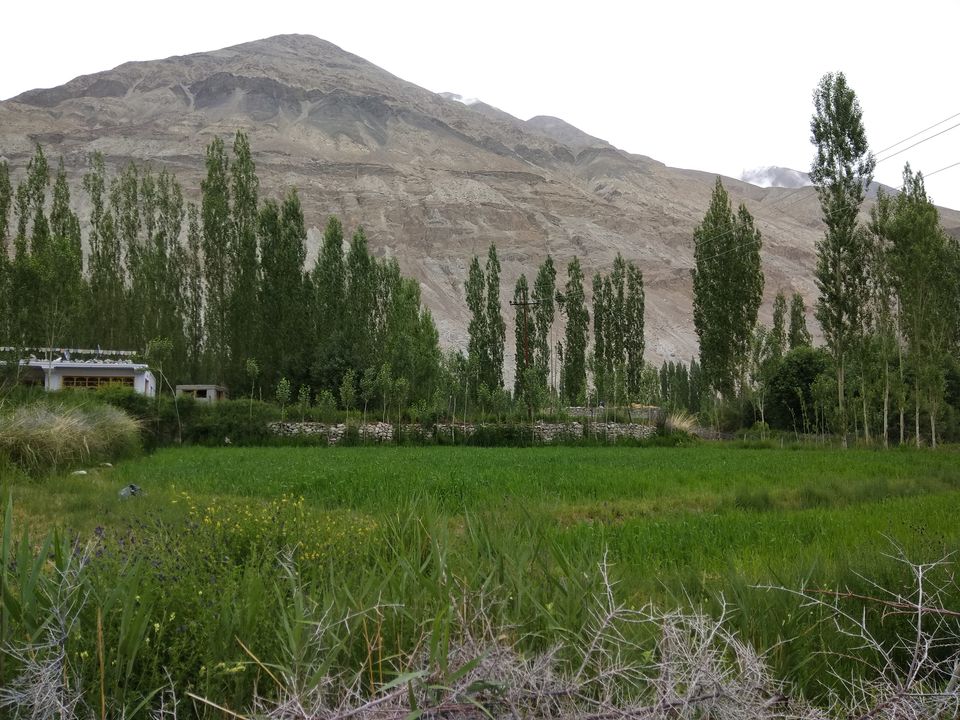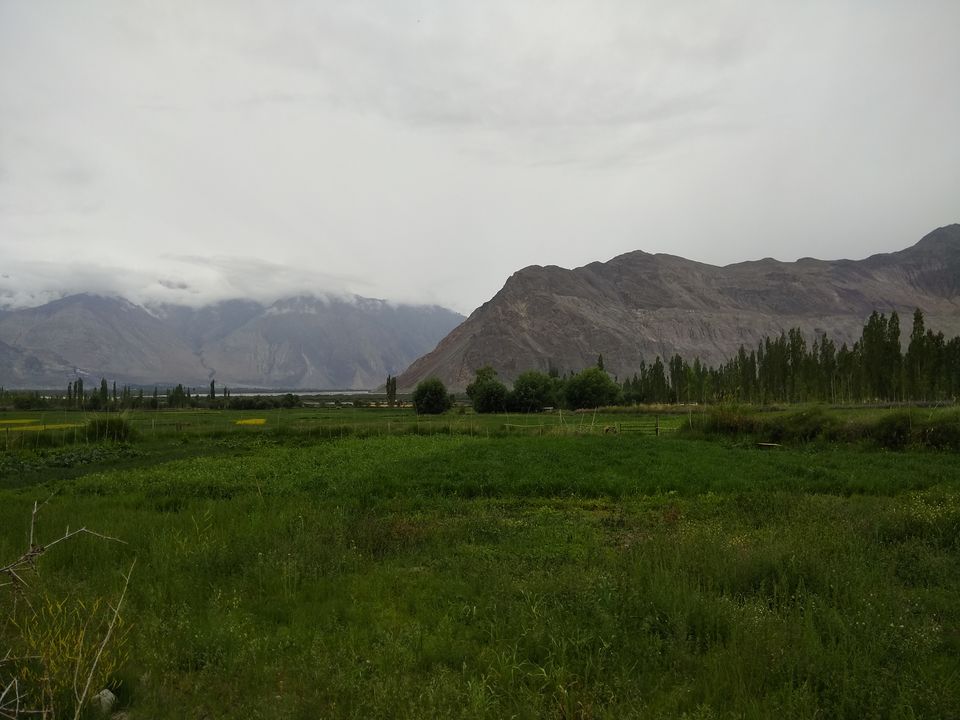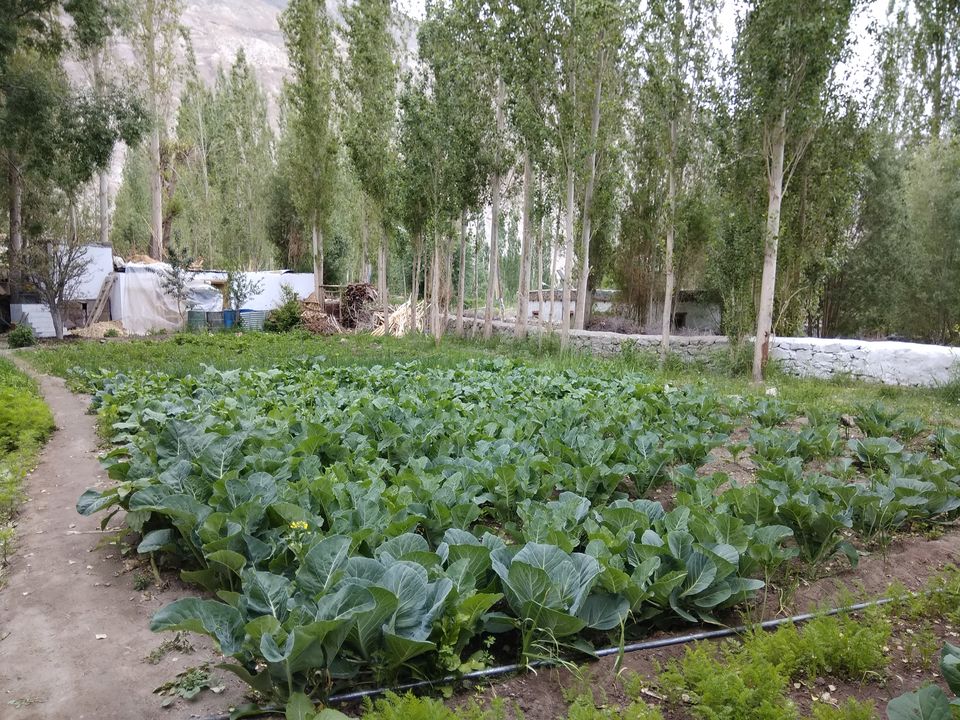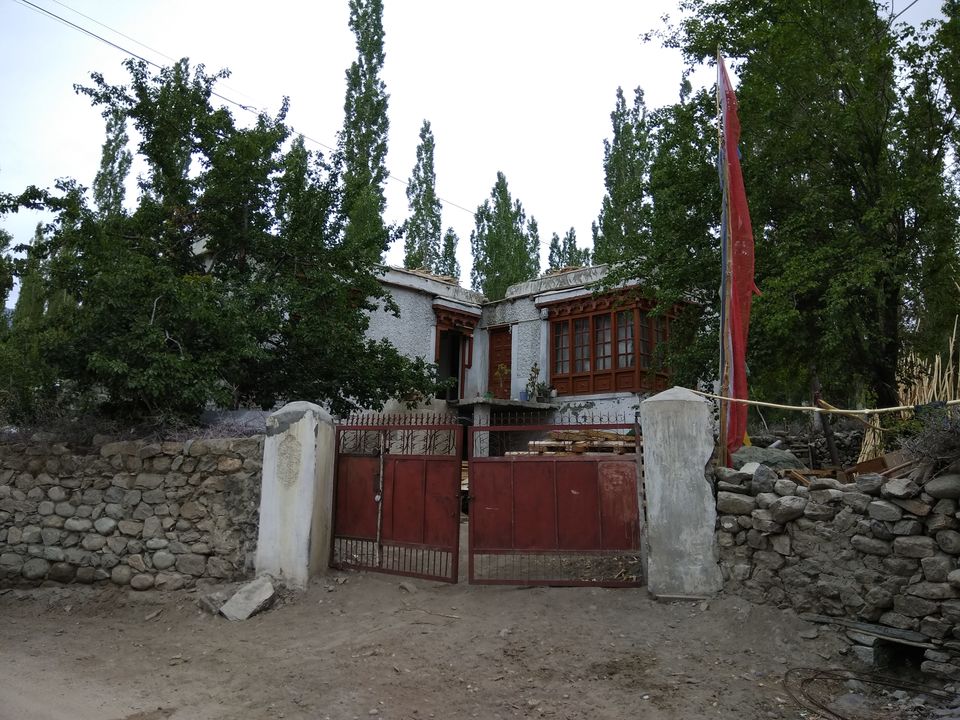 Day 9: Panamik – Tirisha Lake – Yensa Monastery
The first stop for the day was Panamik Hot Springs which was 23kms away from Sumur. The weather was gloomy and drizzling all day long. There are a few places to experience the hot springs in Panamik. We went to the one run by a couple of local women. They collect a fee of Rs. 30 per head for maintenance etc. One need to climb a few steps to experience the natural hotsprings from the mountains. They have also built separate pools for men and women to take bath inside. We spent some time there and came down to have breakfast.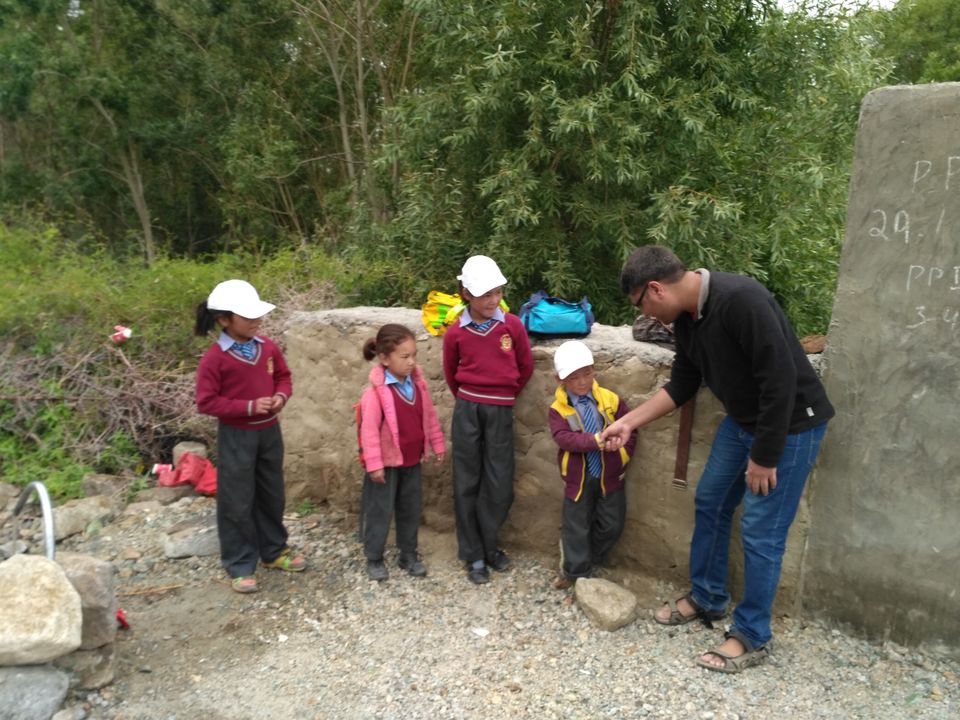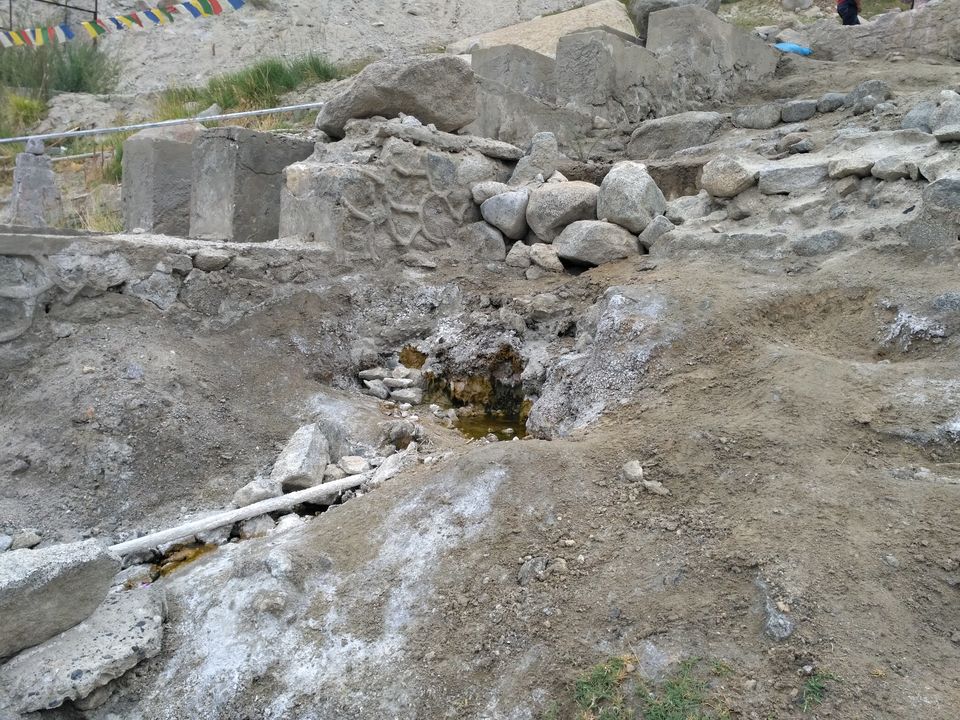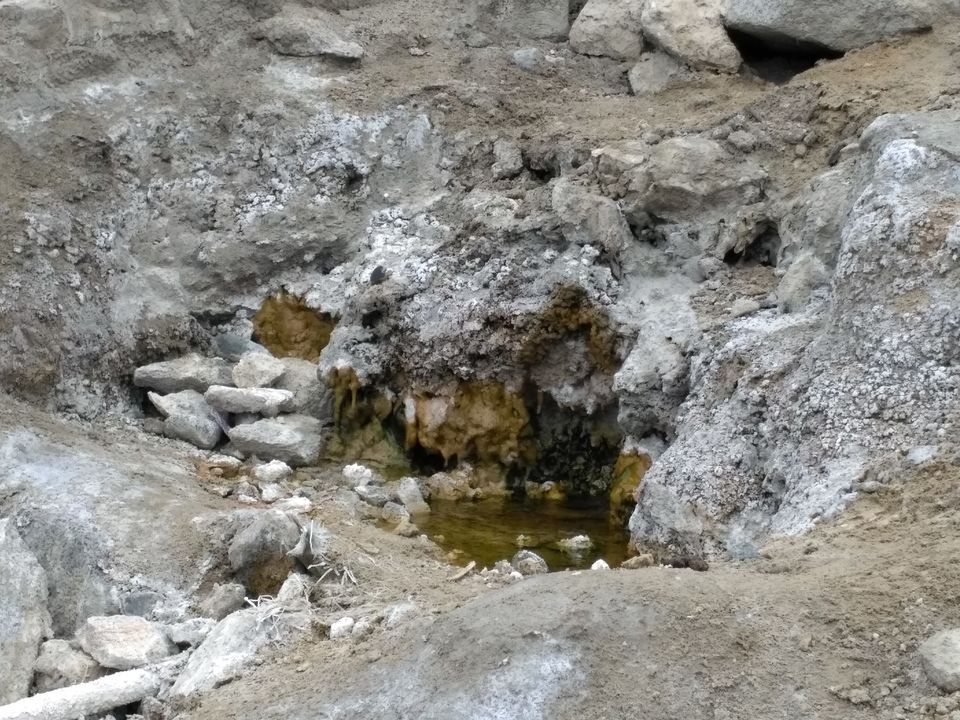 You should try Ladakhi Bread with Butter / Jam / Pickle, Butter Tea (Namkeen / Ladakhi Tea) when in Ladakh. Butter Tea is one of my favourites. There is a unique process to prepare the tea. (Buy Samovar Tea in any of the shops).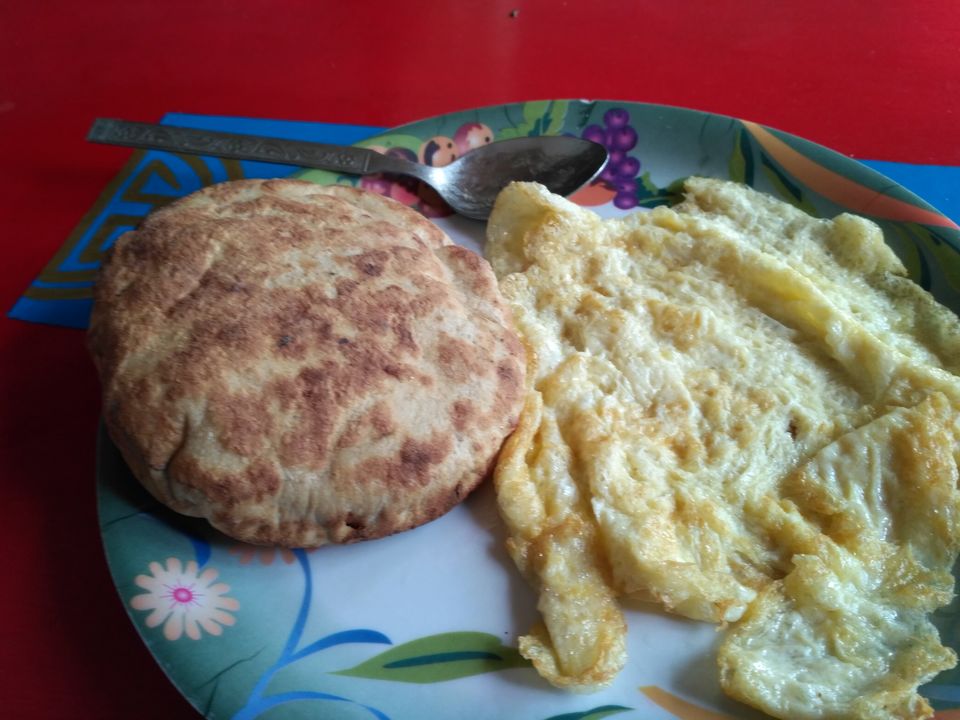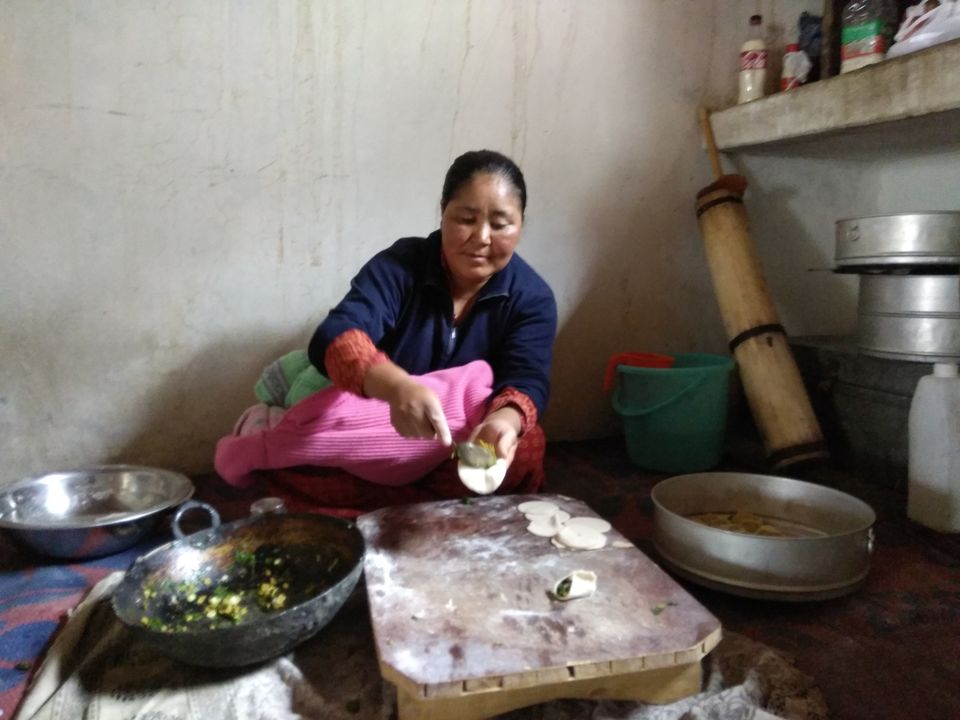 We decided to proceed towards Yensa Monastery which was visible on the other side of the river from Panamik. We heard a few local stories about this monastery where one yogi with superpowers used to live. This got us interested in visiting this place. It was some 12-15 kms from Panamik and we were the only people on this route. It was a bit scary for me personally but I'm a person of adventure. We had to trek a bit up to reach the monastery. Our friends decided to stay back in the car. We reached the monastery but found it to be closed with nobody around. We just relaxed for a while in the peaceful atmosphere. The feeling was as if we owned the entire mountain.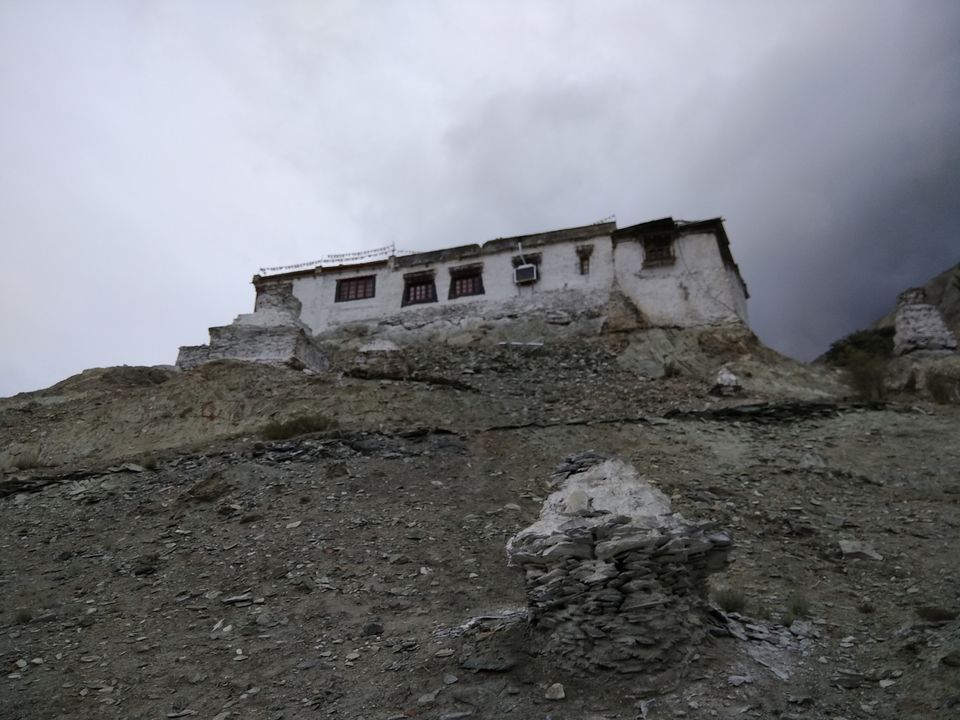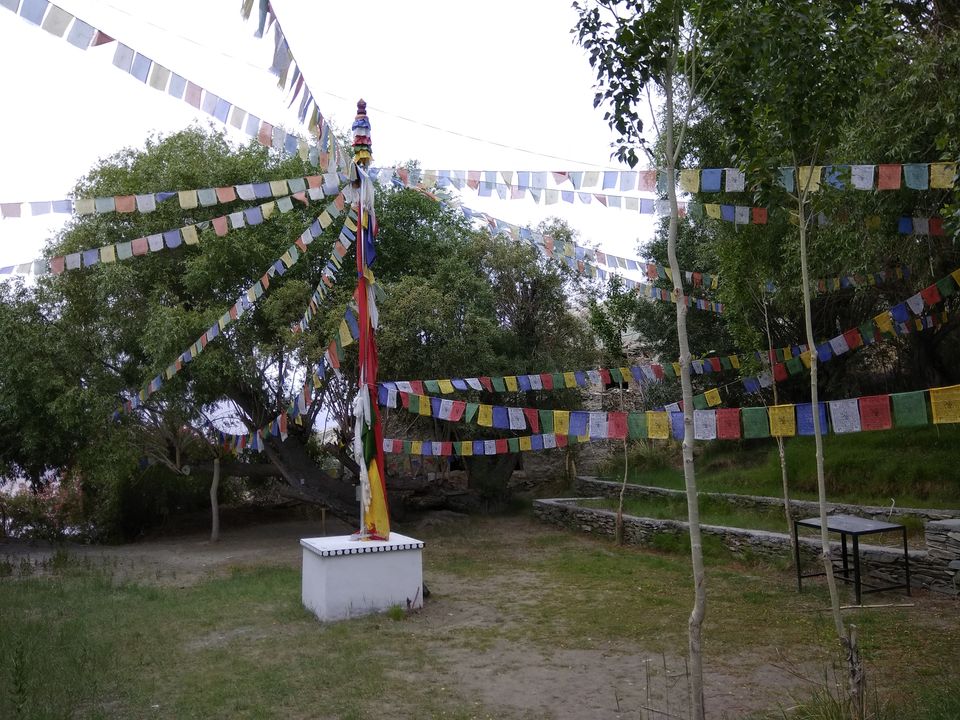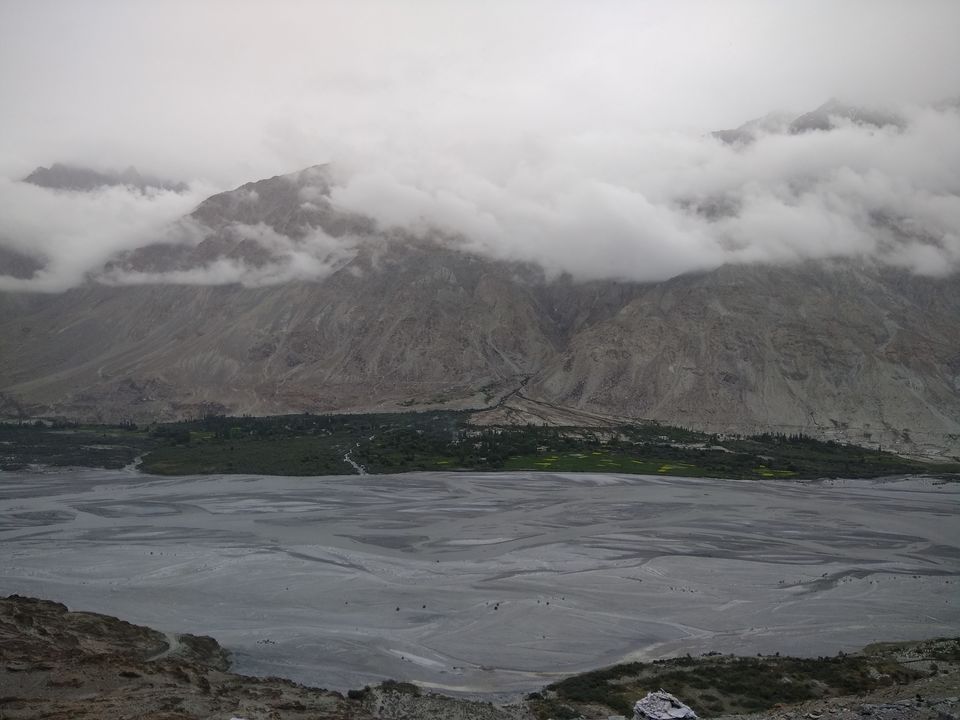 Our next stop was a small but beautiful lake called Tirisha / Yarab Tso which was on the way back to Sumur. The is a just a sign board for the lake but there are no roads. Had to cross one big water stream. We parked the vehicle and starting walking a bit. It is not very far (500 mts). It was a stunning place to be. Unfortunately, it started raining heavily otherwise we would have spent more time there. It is a must visit.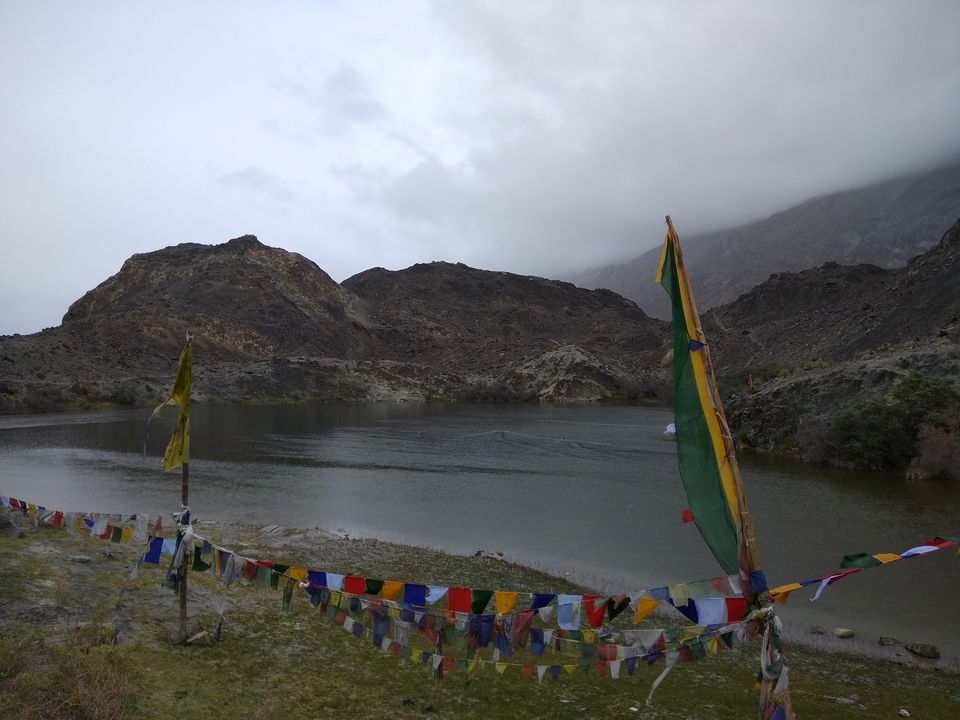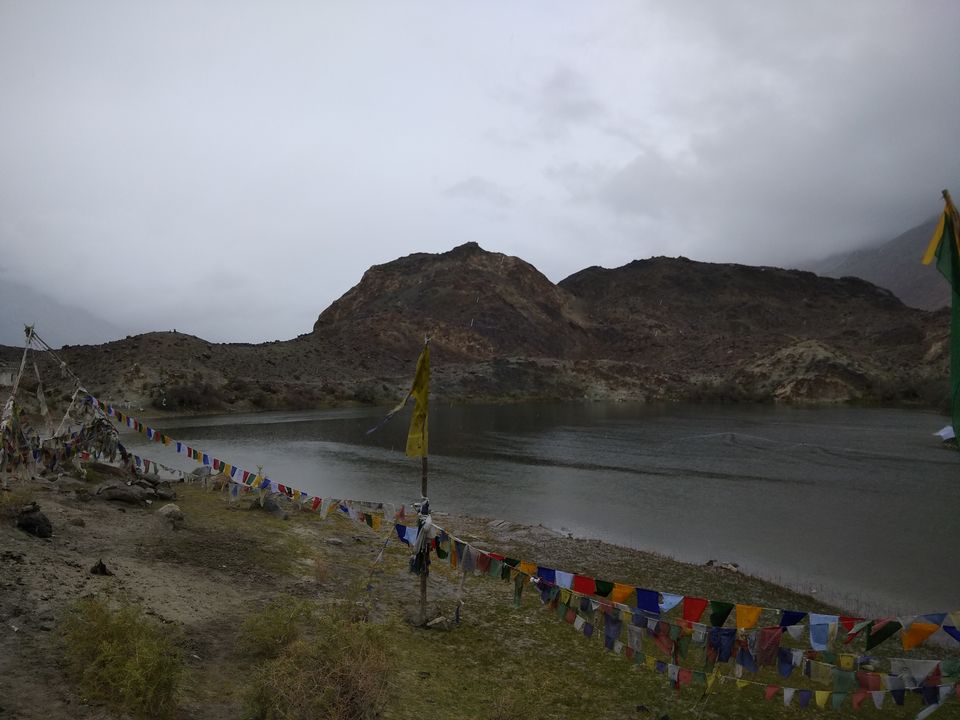 Our last stop for the day was Diskit where we wanted to find a place to stay. We found this place called Sonam Guest House right on the main road. We got a room for Rs. 800 a night. This place is run by a couple who teach in the local schools. They served homely food – Rice, Chappathi, Dal, Mix Veg, Tomato chutney and momos. We started talking about many things as both of us wanted to know each other's way of lifestyle etc. Had quite an interesting discussion till late night.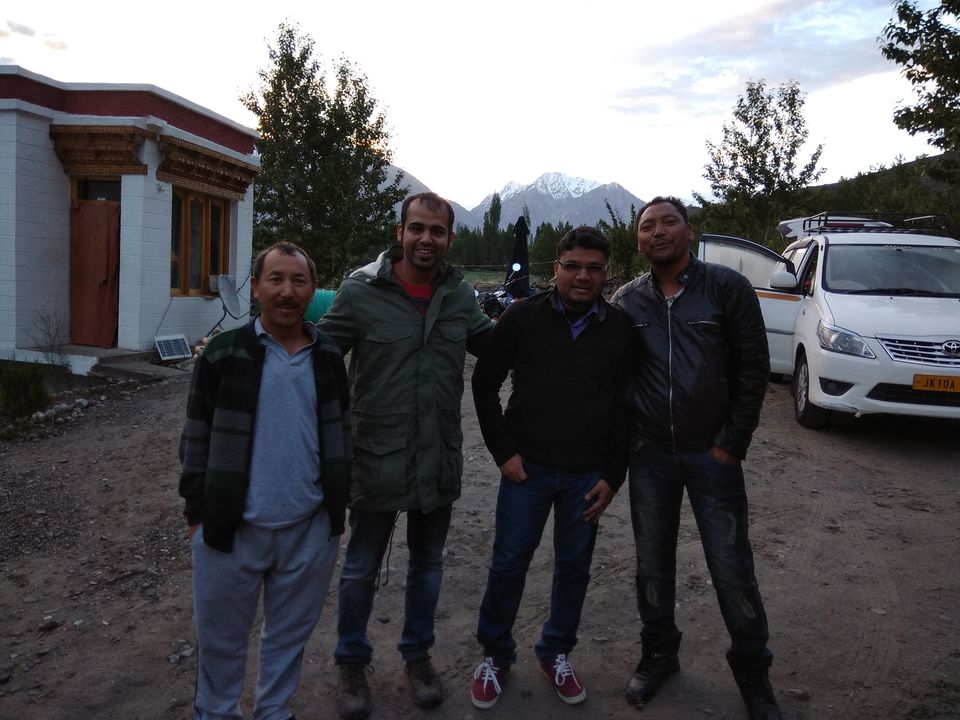 Day 10: Turtuk
Our initial plan was to go to Pangong Tso via Agham-Shyok route. However, both the routes (Agham / Khardung La) were closed. Khardung La was closed due to landslide / avalanche the previous day. We also heard that a couple of them died due to mountain sickness as they were stuck in high altitude.
We had no other option but to visit Turtuk for the day. We started off at 10 AM for Turtuk which was 90 kms away from Diskit. We were the first visitors for the day to Turtuk as told by one of the soldiers posted in the checkpost.
In one of the checkposts we had to submit the permit, when I entered I found the guy to be sleeping nicely. I did not feel like disturbing his sleep so I quietly looked for the entry register and left a copy of the permit on the table.
We reached Turtuk by afternoon. It is a peaceful village very close to the Pak border. The villagers are of Balti community and looked different from Ladakhis. We had lunch at one of the restaurants. We went out looking for dry fruits but unfortunately we couldn't find any shops. Even the local had difficulty in understanding Hindi.
In of the bridge checkpost, we had a nice chat with one of the soldiers. He talked about life in the region, showed a few bunkers in the area (from 1971 war), his future plans, his visit to an Ice Shivling in Siachen . It was quite wonderful to interact with soldiers of the Indian Army. They are very happy to share their stories with us.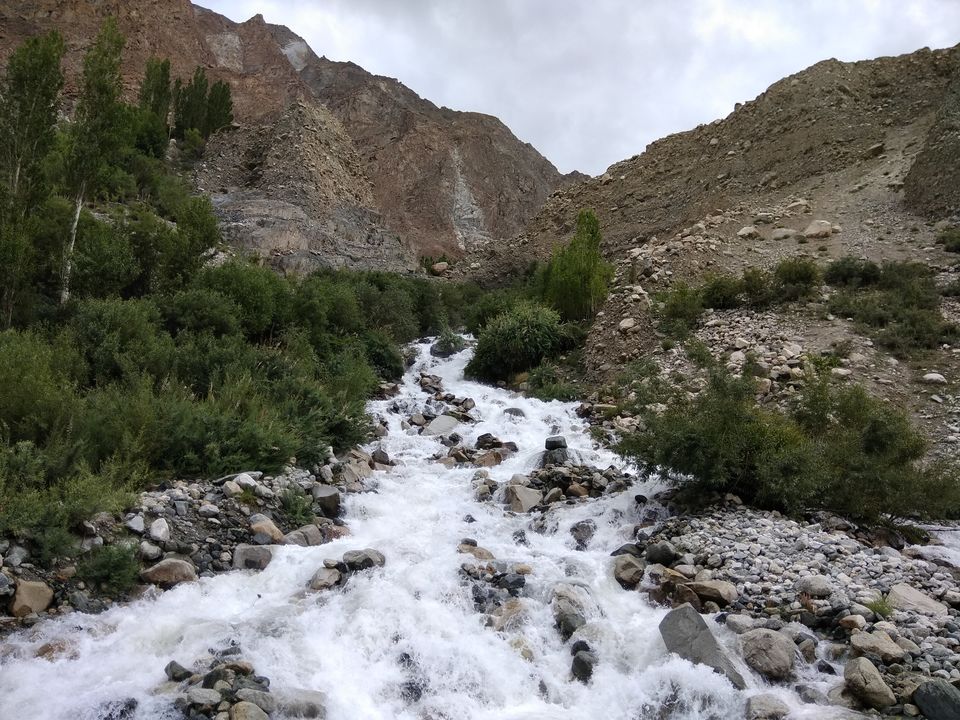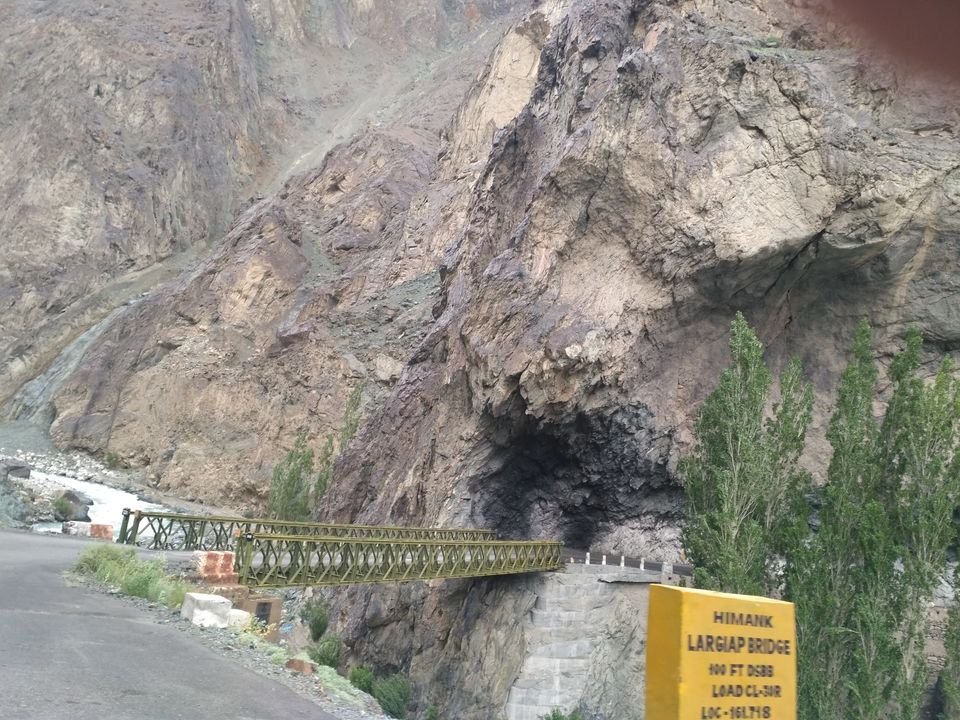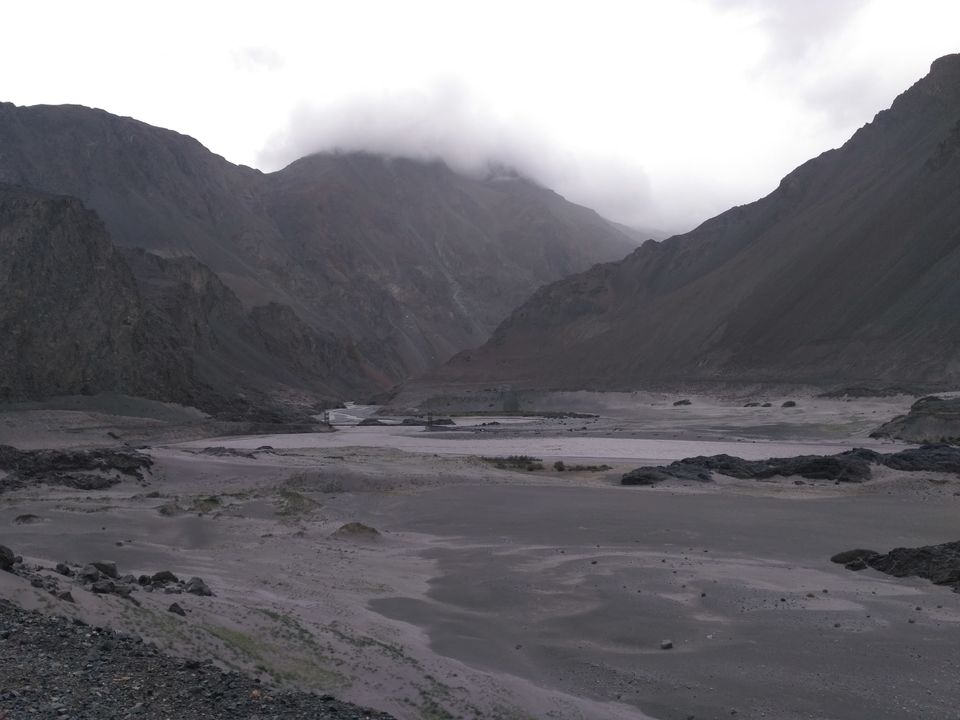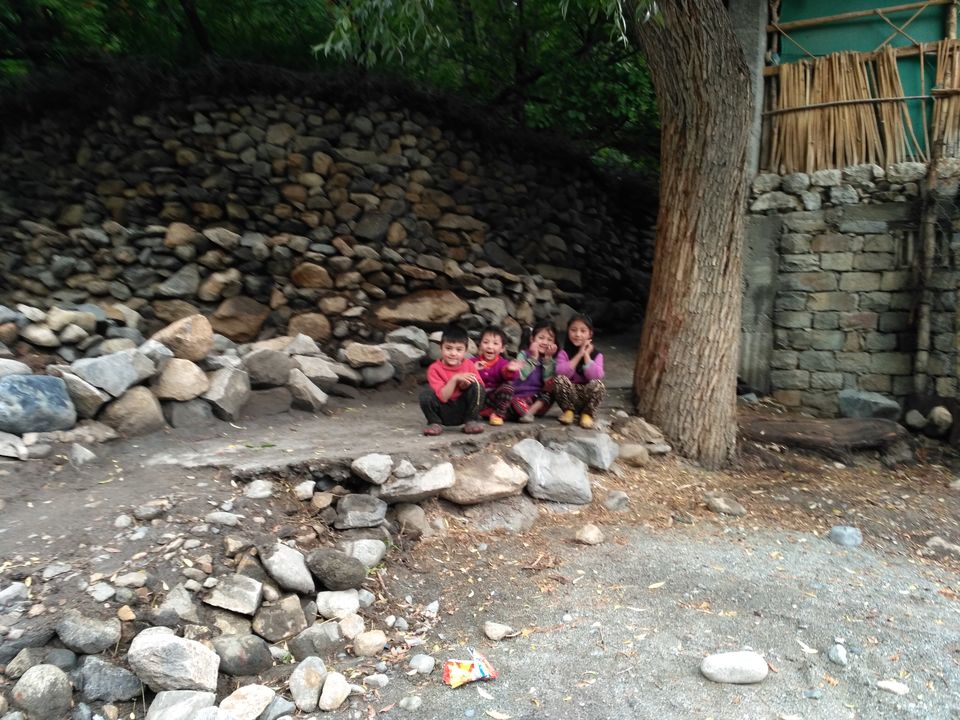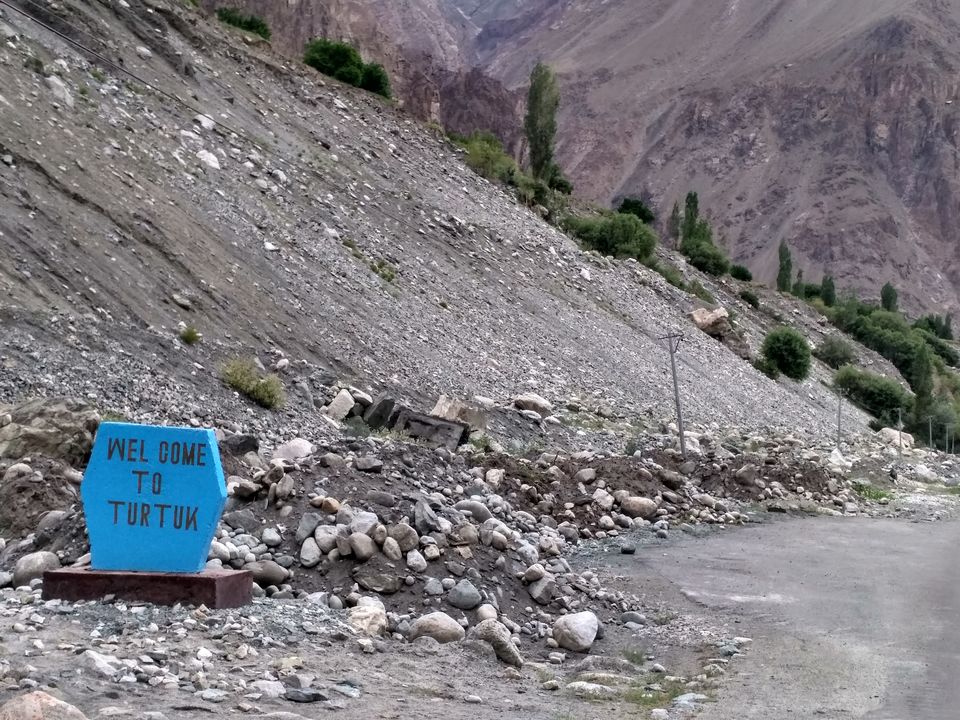 We saw a board 'Dosa Stall' near Thoise airbase while going to Turtuk. On the way back, we all decided to check out this place as we desperately wanted to eat something different from parantha, omlette, chapathi. As expected, this place was run by the Madras Regiment. I started speaking to the people there in Tamil and they were very happy to find out that I'm from Madras. Ordered for one veg biryani and 4 dosas. It was quite tasty and we enjoyed it a lot.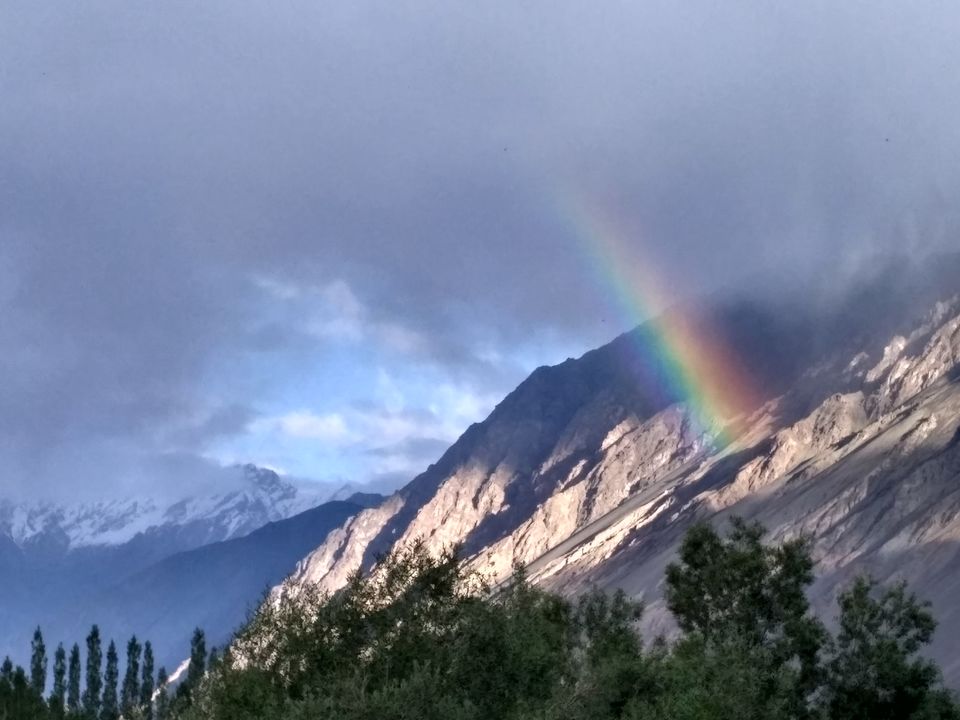 Day 11: Khardung La – Leh
We had no choice but to take Khardung La and go to Pangong via Leh. We started off at 5: 30 AM to try and make it to Pangong Tso. We reached North Pullu at 7 AM. We found the entry to be closed and they said vehicles will be allowed only at 1 PM. We were quite shocked as it was still early in the morning and we were at an altitude of 14000 ft. We couldn't turn back and go to Diskit as it was quite far and it didn't make sense to go back. We waited patiently as vehicles started piling up at the checkpost. Only vehicles with medical emergencies were allowed to go (4 of them). It was well past 2 PM when we saw vehicles coming from opposite side. Then, we were allowed to go and luckily we were in the front of the queue. The roads were being cleared at Khardung La due to heavy snowfall and avalanche the previous night.
We had the best drive of the trip in the tough terrains. We thoroughly enjoyed the magnificent views of the snowclad mountains and the fresh snow enroute. We reached Leh at 5:30 PM. Called up Otsal guest house and luckily there were 2 rooms available. We did not think of going anywhere else. We freshened up and straightaway went to Little Tibet for a celebratory dinner (conquering Khardung La twice without any trouble).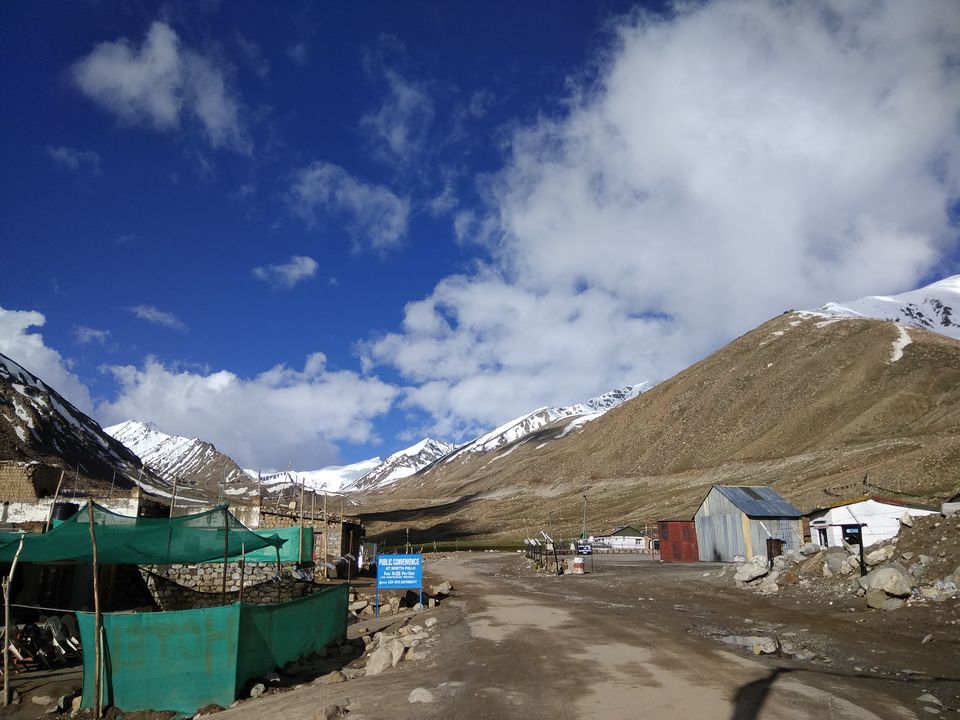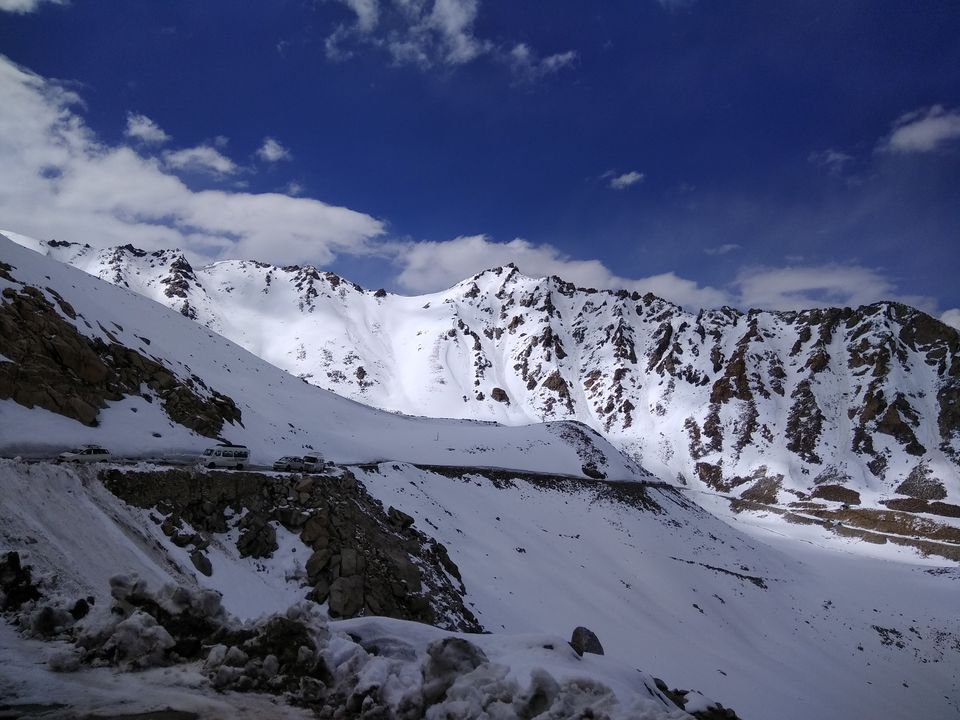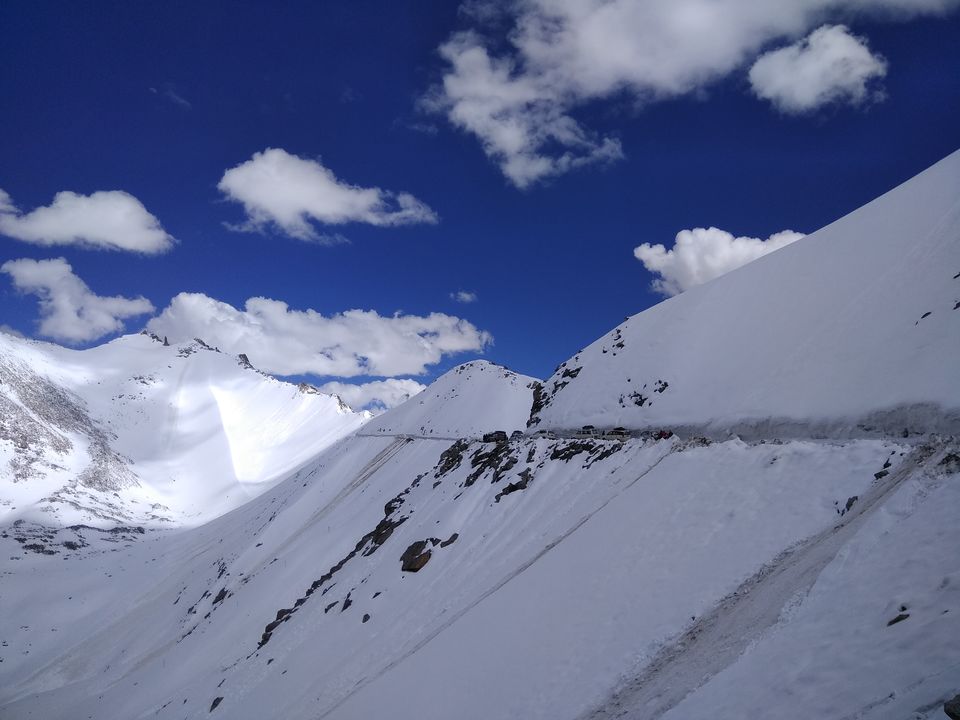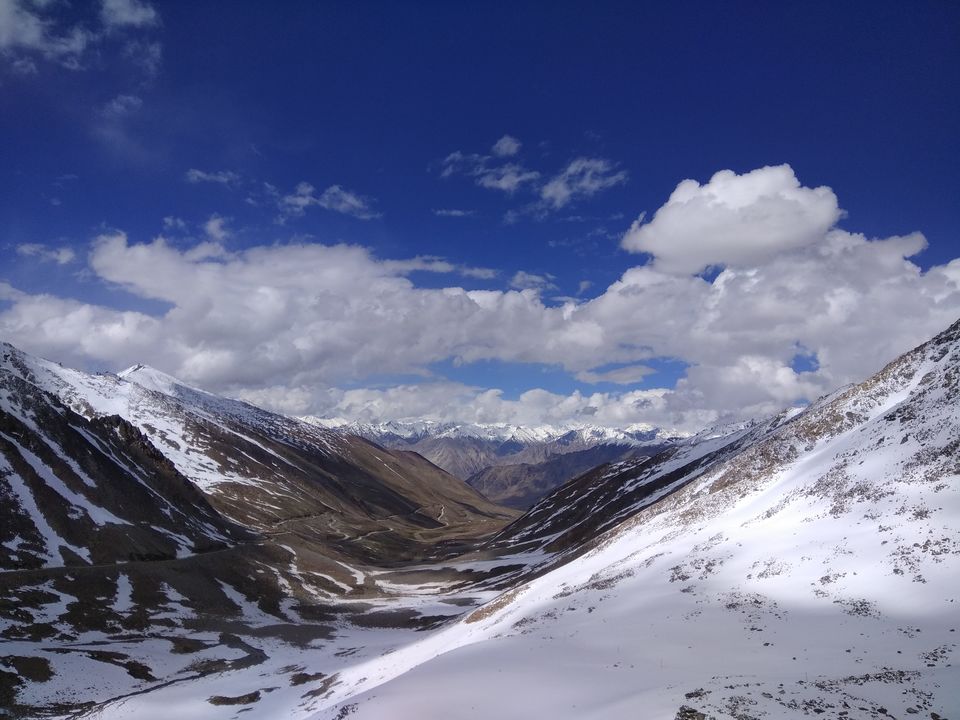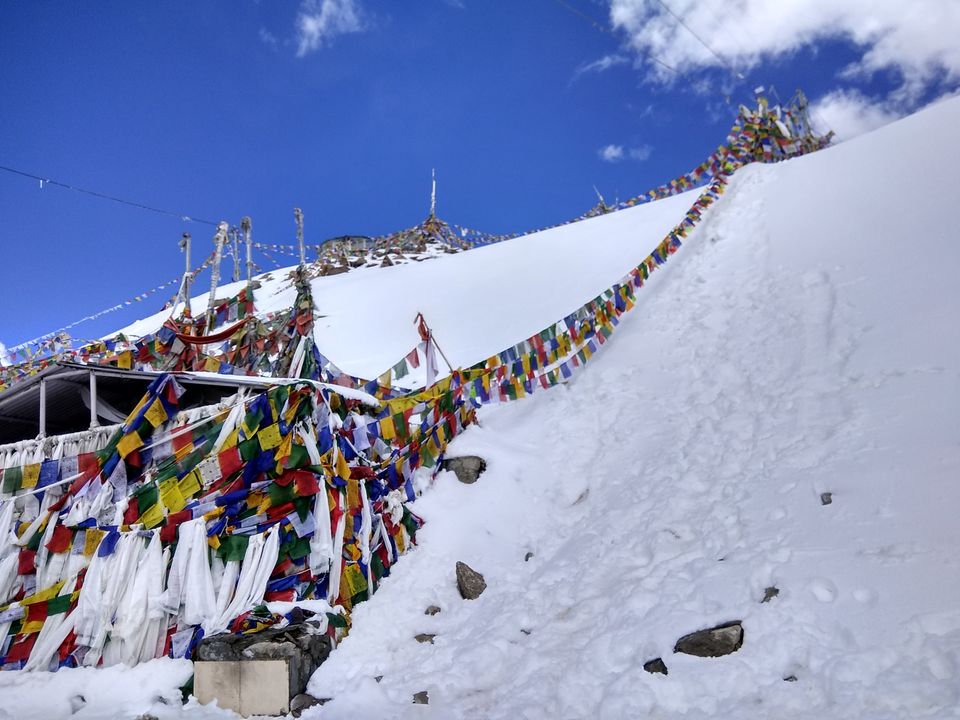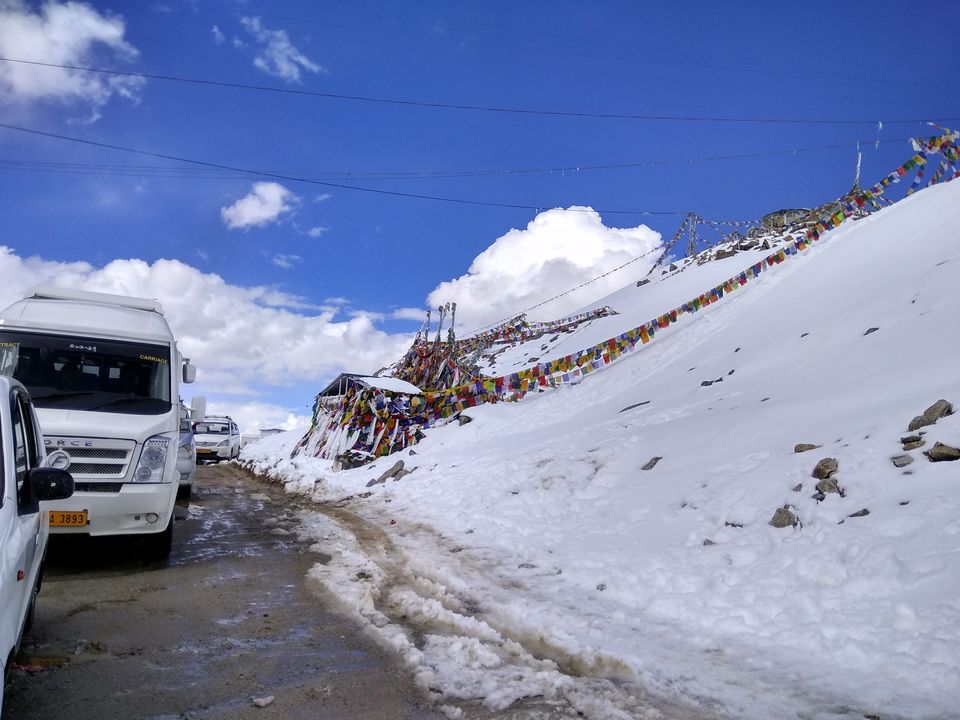 Day 12: Leh – Pangong Tso
We enquired from the control room whether the road to Pangong Tso was open. We started off at 9 AM after having breakfast. The roads from Karu – Sakti were under construction and it worsened after that till Zingral. The 30 kms stretch after Zingral was in terrible condition. We stopped at Chang La for a quick break and proceeded towards Pangong Tso. We decided to find a homestay at Spangmik. We found one for Rs. 700 a night. Dolkar Homestay is run by a local Ladakhi family. They served basic food but it was very delicious. They specially made Paneer for dinner too.
We spoke to him for a bit when he explained about the lake, how it freezes during winter and people cross it by foot which takes 2 hours to bring firewood from other side. It was quite interesting. Spangmik is full of tented accommodation very close to the lake. We went near the lake shore in the evening to take a few photos. We were quite late and we missed the colorful reflections on the water.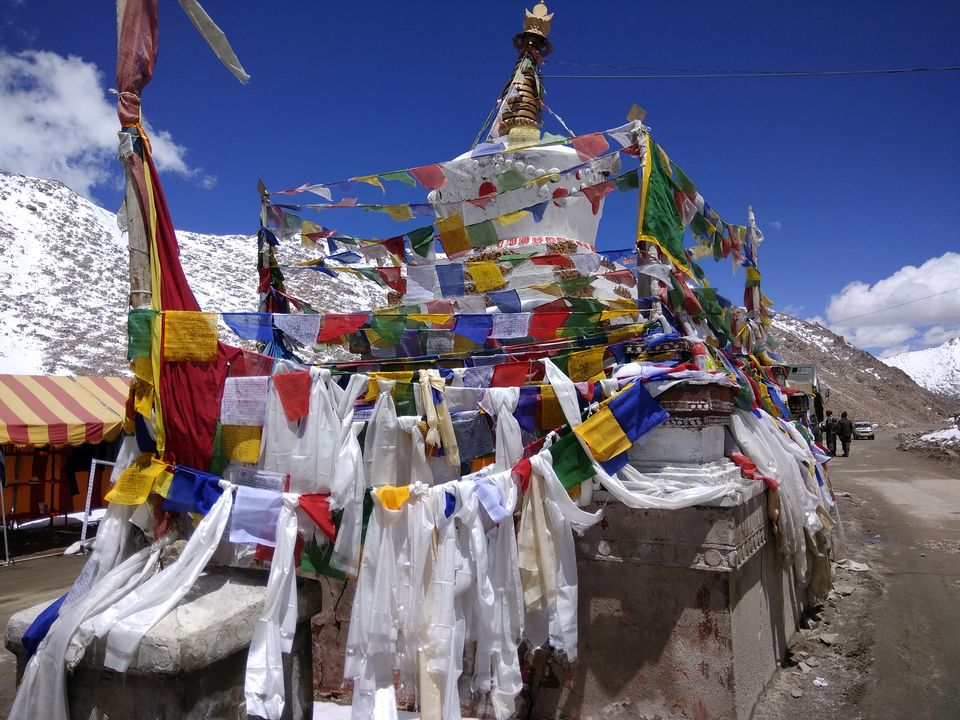 Day 13: Pangong Tso – Drass
We left Spangmik by 4:45 AM as we wanted to cover the maximum distance possible for the day. It was freezing cold but the night sky was amazing to watch and the chill breeze was pricking our bones. We stopped by the lake for some more morning photographs. The sunlight wasn't enough but still we clicked a few.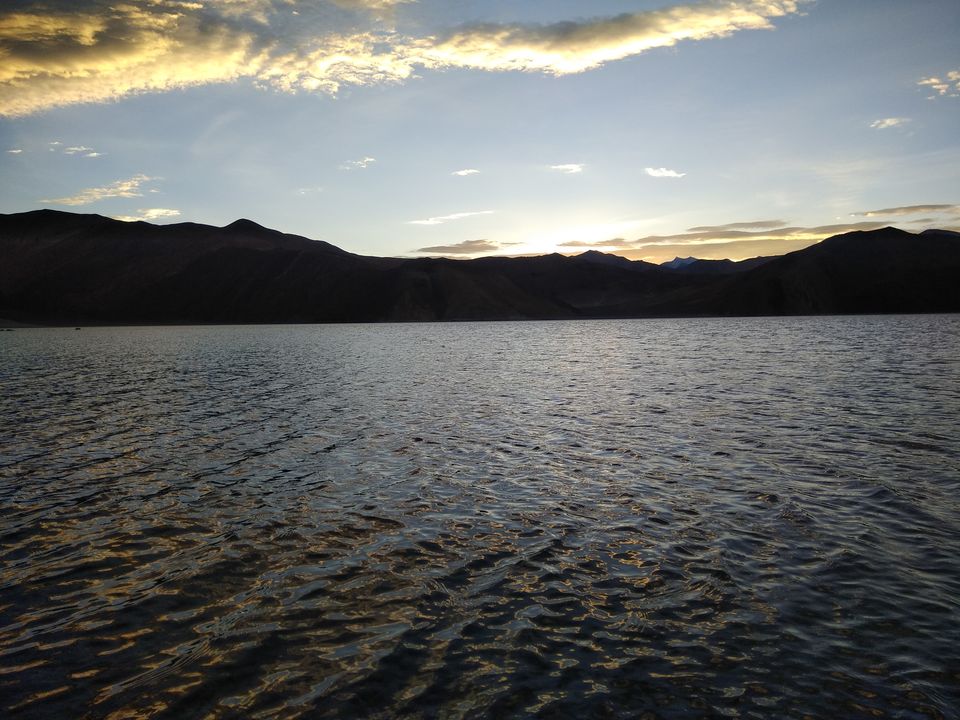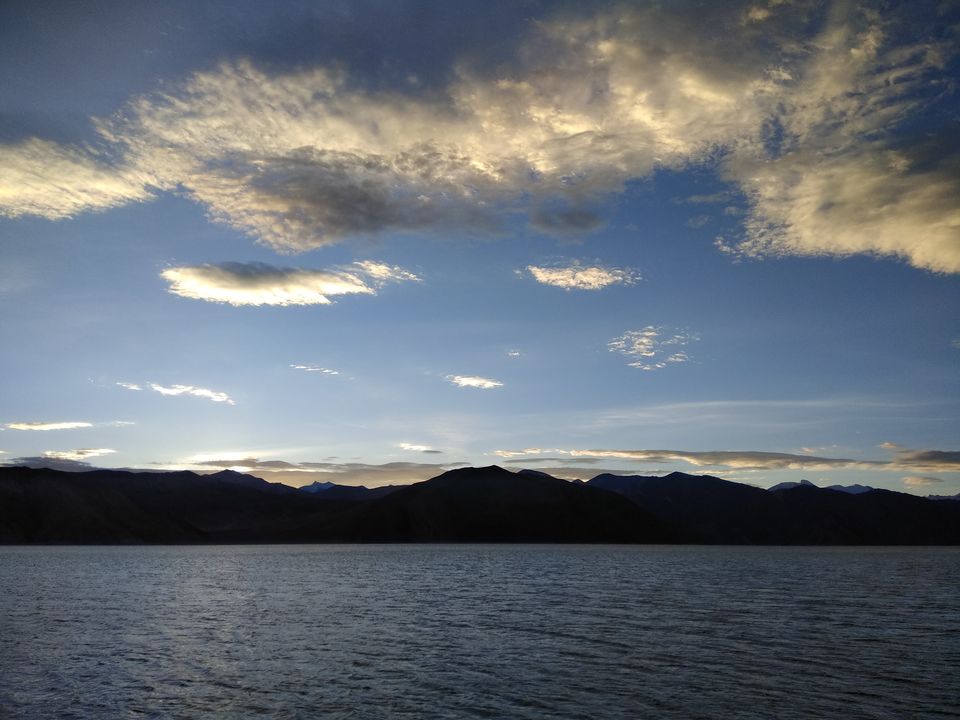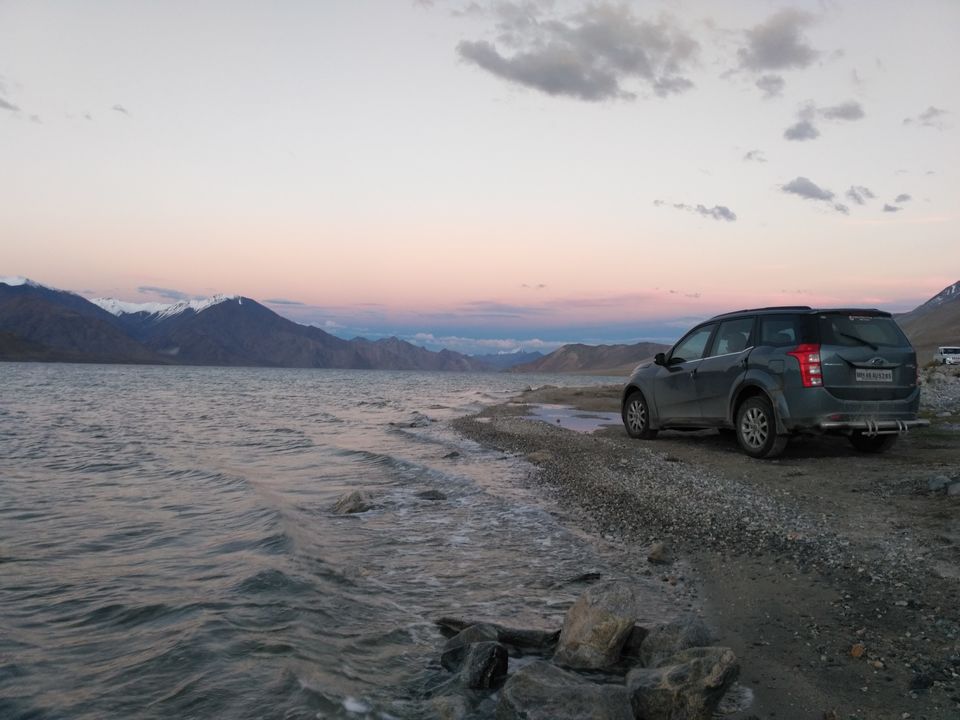 We decided to skip Tso Moriri as we were all exhausted and it was also the last day of validity of permit and it was not possible to reach Tso Moriri in a day considering the road conditions enroute. We reached Chang la in a couple of hours where my friend enquired with one of the taxi drivers regarding the road conditions in Manali highway. He highly advised us not to take the route as there were landslides near Sarchu and the roads were in poor conditions.
Again, we had to change the plan instantly and come back via Srinagar. That shows how much ever you plan your trip to Ladakh, in the end it is up to the mercy of nature.
We reached Karu and had a light breakfast. We reached at around 11:30 AM and continued towards Srinagar highway. It was a bliss to drive again on these beautiful roads. We smoothly reached Drass at 7 PM. We had to get the sunk guard repaired at Kargil and faced a traffic jam in Kargil town.
Day 14: Drass – Ramban
We left at daybreak as our target was to reach Pathankot but on the way we wanted to do some shopping at Srinagar so we had to spend a few hours in the city.
Go to Lal chowk if you want to purchase Dry fruits, Kashmiri Chilly, Rajma, Kashmiri rice etc. Head to this place called Krishna Dhaba near Dal Gate if you want tasty Vegetarian food. The place was full for a weekday afternoon.
We encountered a lot of traffic from Quazigund, Banihal due to Amarnath Yatra pilgrims.
Day 15: Ramban – Neemrana
Day 16: Neemrana – Ahmedabad
Day 17: Ahmedabad – Mumbai
10 Takeaways from the Trip:
1. Stay at local guest houses. These people earn only during this 6 months.
2. Try the local food and speak to the people to hear their stories, history about the place.
3. Do not book hotels in advance in Ladakh. See the room, negotiate a bit and then decide.
4. Have Butter Tea, Ladakhi bread, Momos, Chowmein, Thukpa, Yak cheese.
5. Plan the rough itinerary but go with the flow as per road conditions.
6. Check with the local drivers, control room before deciding on any route.
7. Enjoy the sights. Do not litter on the way.
8. Buy locally made Tibetan jewellery, Apricot Jam, Seabuckthorn Juice, Apricot soaps etc.
9. Start as early as possible when in Ladakh as water streams become difficult to cross later in the day.
10. Have fun.
"To get an itinerary prepared for your trip, connect with me on Whatsapp @ +91 75066 44699."